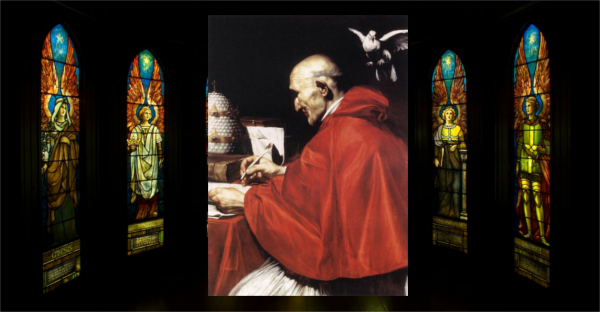 The Magi and Herod both had incorrect ideas about Christ's Kingdom. But the Magi were willing to learn from Scripture, says St. Gregory the Great, whereas Herod was not.
The three wise men, stirred up by God through the light of a strange star, followed its twinkling light as a guide, thinking they would find the child it pointed to in Jerusalem, the royal city. But when they found that they were mis­taken in that idea, they learned through the scribes and teachers of the Jews what the holy Scripture had foretold about the birth of Christ, so that—confirmed by a double witness—they searched with still more eager faith to find the One who was revealed both by the brightness of the star and by the certain word of prophecy.
How easy and natural it would have been for these leading men among the Hebrews to believe what they taught! But they seem to have held material notions along with Herod, thinking that Christ's Kingdom was the same sort as the kingdoms of this world. They hoped for a worldly leader, while he dreaded an earthly rival.
The fear that racks you is wasted, Herod! In vain do you try to vent your rage on the infant you suspect. Your realm cannot hold Christ. You do not wish him to reign in Judea, but he reigns everywhere—and you would rule more happily yourself if you submitted to his command. Why don't you do sincerely what you promise with treacherous deceit? Come with the wise men, and worship the true King in suppliant adoration. –St. Gregory the Great, Sermon 34, 2
IN GOD'S PRESENCE, CONSIDER . . .
Do I trust Scripture and the Church to show me who Jesus Christ is, or do I try to fit Christ into my own prejudices?
CLOSING PRAYER
Father, as you guided the Magi on their travels, guide me, your servant, on my own journey. Protect me from the perils in the way, and lead me to find the One I seek.
---
Remember to subscribe to my feed so you will not miss a day! This recurring feature at The Catholic Book Blogger is possible through the cooperation of author Mike Aquilina and publisher Saint Benedict Press. To get your own copy of this book, click below.