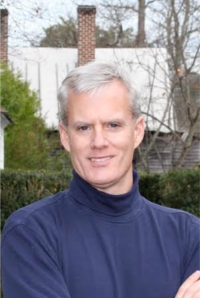 PETE: How did you develop the concept for the Kingdom of Patria?
DANIEL McINERNY: Some years ago, when my two daughters were small, I was reading Humphrey Carpenter's biography of J.R.R. Tolkien, where Tolkien is quoted as saying something to the effect that, in imagining a new world, it was important for him (the professional linguist) to start with a name. So, for example, he began with the strange name "hobbit," and extrapolated an entire mythological universe from there. That very night, in telling a bedtime story to my girls, I copied Tolkien, inventing the name "Twillies" for a microscopic guild of fairies who minister to their princess in various ways by helping disentangle her hair, keeping soap bubbles out of her eyes in the bath, etc. In continuing to tell "Twillies" stories I elaborated upon the world that eventually became the Kingdom of Patria.
At that beginning, in these family bedtime stories, Patria was a magical world, deeply indebted (I believe the more usual word is stolen) from the imaginations of Tolkien and C.S. Lewis. But as I began to think about how to approach a written version of my Patria stories, I found myself increasingly disinterested in writing about a magical world. I suppose I was afraid of writing clichés. But I also became very much attracted to the idea of a fantastic world that, given a rather wacky alternative take on history, is very much part ofour world. That idea is at the very heart of what Patria is today. Nonetheless, it took me a long time to bring this new world of Patria into focus. Stout Hearts & Whizzing Biscuits, the first book in the Patria series, was begun in earnest about three years ago, and only completed in the summer of 2011. The sequel, Stoop of Mastodon Meadow, was published in March, 2012. I'm at work on the third book in the series right now.
Twillies, by the way, being magical creatures, were left on the cutting room floor in the re-imagining of Patria. But my daughters still miss them intensely. Perhaps there will be an occasion to work them into the series later on, to introduce the magical element. But at present I'm very happy exploring Patria as a tiny kingdom hidden in the midst of contemporary northern Indiana.
PETE: What influence does your Catholic faith play in the Kingdom of Patria series and other books you have written or will write in the future?
DANIEL McINERNY: My Catholic faith is the prime motivation for everything I do, including of course my writing both for children and adults. The blog at my website, danielmcinerny.com, is devoted to promoting the Catholic literary tradition.
Even though it is a whimsical series of adventure-mysteries for kids, the Kingdom of Patria series is very much a product of the Catholic literary tradition, not least in the way it draws upon myths of Aeneas and the refugees from the Trojan War, myths which have been taken up into the Catholic imagination by writers such as Dante and the anonymous author of Sir Gawain and the Green Knight. Patria was founded by refugees from the Trojan War who found their way to the New World some 3,000 years ago!
There are other Catholic elements in Patria as well, such as a monastery of Irish monks (drawing upon the legend of Saint Brendan) and a broadly Thomistic understanding of political life (all very lightly played, however!). All that being said, it is quite intentional on my part that the Patria series not wear its Catholic character on its sleeve. My aim is to attract as wide and diverse an audience as I can to this world, letting the humor, the wacky alternative history, the colorful characters, and the suspense of the narratives provide a delightful natural experience of the good, true and beautiful.
PETE: You have now released two volumes in the Patria series. Is there an overarching theme to the series that would impact how many volumes it will be? What are you overall plans for the series and the direction it takes?
DANIEL McINERNY: The first two volumes were written without any grand design in mind. The second book in the series, Stoop of Mastodon Meadow, picks up with Oliver Stoop's adventures just a few months after the events of Stout Hearts & Whizzing Biscuits, but there is no over-arching plot that ties the two books together. With book three, however, I am contemplating beginning an arch-plot that would take several volumes to complete.
PETE: Can you give anxious readers some hints into what the next Patria volume or two might be about?
DANIEL McINERNY: I'm pretty confident that book three will involve, as backstory, the details of the founding of Patria by the original Trojan refugees. The founding is a grand adventure in itself, and is not without its mysteries that even to this day remain unsolved. Readers wanting more Patria material while they wait for the third book can enjoy the free story content in both text and audio at kingdomofpatria.com.
PETE: Time for my signature ending question. This is a blog about books. What is currently on your bookshelf to read?
DANIEL McINERNY: I am notorious for reading several books at any one time. At present I'm reading Self-Esteem Without Selfishness by Michel Esparza, The First World War by Michael Howard, the aforementioned Sir Gawain and the Green Knight in the W.S. Merwin translation (though I can't wait to see the newly published J.R.R. Tolkien translation), and The Long Walk by Slavomir Rawicz.
___________________________________________________________________________________________________________________

More books by Daniel McInerny
Stoop of Mastodon Meadow: A Patria Story (Volume 2)
The Actor: A Play
The Bureau of Myths: A Short Story
High Concepts: A Hollywood Nightmare