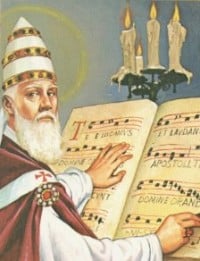 Live a life worthy of the Resurrection
Christ died for sinners, not for the righteous. Now that Christ has conquered death, says St. Gregory the Great, we should abandon our worldly lives and live for Christ.
God's mercy for us is more amazing because Christ died, not for the righteous or holy, but for the unrighteous and wicked. Though his divine na­ture was not capable of death, yet at his birth he took from us what he would offer for us.
Long ago he threatened our death with the power of his death, saying through the mouth of the prophet Hosea, "O Death, where are your plagues? O Sheol, where is your destruction?" (Hosea 13:14). By dying he was subject to the laws of hell, but by rising again he broke them, and destroyed the continuity of death, making it temporal instead of eternal. "For as in Adam all die, so also in Christ shall all be made alive" (1 Corinthians 15:22).
So, dear friends, let it happen the way St. Paul says: "that those who live might live no longer for themselves but for him who for their sake died and was raised" (2 Corinthians 5:15). And because the old things have passed away and all things have become new, let no one remain in his old worldly life, but let us all be renewed by daily progress and growth in piety. Whoever is not advancing is going backwards, and whoever is gaining nothing is losing something.
Let us run with faithful steps, by the works of mercy, in love of righteousness, so that by keeping the day of our redemption spiritually, "not with the old leaven, the leaven of malice and evil, but with the unleavened bread of sincerity and truth," we may deserve to share in Christ's resurrection.
–St. Gregory the Great, Sermon 59, 8
IN GOD'S PRESENCE, CONSIDER . . .
Are sincerity and truth the hallmarks of the life I live now?
What can I change in my life to be more worthy of the Resurrection?
CLOSING PRAYER
Father, the source of all encouragement, give me the strength to act as one who has been called by you, so that I can observe your sacred laws.
___________________________________________________________________________________________________________________
Remember to subscribe to my feed so you will not miss a day! This recurring feature at The Catholic Blogger is possible through the cooperation of author Mike Aquilina and publisher Saint Benedict Press. To get your own copy of this book, click below.