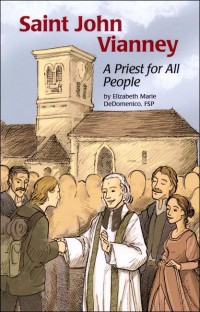 The Encounter the Saint Series that Pauline Books and Media publishes is a fantastic resource on the saints that my children love. The series has grown to over 30 plus volumes. We have featured titles from the series here at The Catholic Book Blogger before and look forward to more in the future. Here is my wife Laura's review of the volume on St. John Vianney.
As less and less young men answer the call to the priesthood, becoming a parish priest may not be the most appealing profession for our boys of this modern world. Parents need help in fostering an acceptance of the priestly calling and with the book Saint John Vianney: A Priest for all People, by Elizabeth Marie DeDomenico, FSP young boys are given a role-model to emulate and look-up to helping them to bravely consider and hopefully accept this difficult and much-needed vocation.
The book begins with the Vianney family's struggles during the French Revolution. As they attend Mass in secret, young John prepares to receive his First Holy Communion. The day of his First Communion begins the spiritual journey of a young boy who would eventually become the patron saint of parish priests. Dreaming of the priesthood, John struggles through many trials in pursuing this ultimate goal. Learning Latin is extremely difficult for young John. Then, unexpectedly, he is summoned to military service forcing him to leave his studies for the priesthood behind. God is with him, and eventually he is able to complete his studies and is finally ordained. John's dream has come true. God calls young Father Vianney to a small secluded village parish which is in need of a pastor. The words of Father Vianney will soon be realized that "one day this parish won't be able to hold the crowds of people who will come here."
Father Vianney's sermons inspire the people to flee from their sinful ways. He is even instrumental in having the local bars, a source of much sin, closed down. Not everyone is happy with this new priest and the new piety he has brought to the parish. They are not concerned about changing their ways; however, many are and the confessional line shows it. The church was now crowded with people every Sunday, numerous traveling many miles just to see Father Vianney. His words hold true. The crowds do come and wait for hours just to have Father Vianney hear their confessions. He transforms a sinful small village parish into a thriving pious church.
Father John Vianney was greatly loved by his parishioners and the pilgrims who flocked to his parish to see him. He is still loved today and this book tells the remarkable story of this beloved priest who continues to inspire both boys and girls with his amazing love of Jesus and others.
___________________________________________________________________________________________________________________
We received a copy of the book for this review from the publisher, Pauline Books and Media.