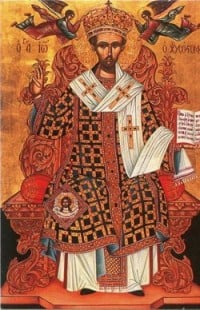 Weigh your words carefully
Palladius of Galatia, who spent years among the desert hermits of Egypt, tells the story of Pambo, who thought so carefully before he spoke that he preferred to let months go by rather than give an ill-considered answer.
On his death-bed, at the very moment of his passing, Pambo is reported to have said this to the bystanders, Origen the priest and steward and Ammo­nius—famous men, both of them—and the rest of the brethren:
"From the day that I came to this place in the desert and built my cell and inhabited it, I cannot remember having eaten 'bread without paying' (2 Thessa­lonians 3:8) not earned by my hands. I have not had to repent of any word that I have spoken up to the present hour. And so I go to God, as one who has not even begun to be pious."
Prominent men, Origen and Ammonius, testified further to us, saying: "When he was asked about a word of Scripture or other practical matter never did he answer at once, but would say: 'I have not yet figured it out.' Often he went as long as three months and gave no answer, saying he had not put his hand on it. Accordingly people received his answers as if they came from God, so carefully were they framed, as God would approve them. This one virtue he was said to possess even above the great Antony and above all others, namely exactness of language."
–Palladius of Galatia, Lausiac History, 10.6-7
IN GOD'S PRESENCE, CONSIDER . . .
How carefully do I think before I speak?
How often do I wish I hadn't said something?
CLOSING PRAYER
Lord, grant that I may never be condemned by the words of my mouth, so that I may dare to call on you with a face that is unashamed and lips that are pure.
_____________________________________________________________________________________________________
Remember to subscribe to my feed so you will not miss a day! This recurring feature at The Catholic Blogger is possible through the cooperation of author Mike Aquilina and publisher Saint Benedict Press. To get your own copy of this book, click below.