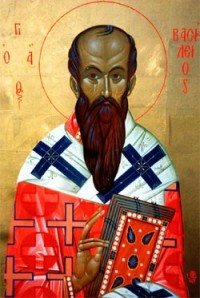 Show your enthusiasm for God
People go wild for shows and sports, says St. Basil, and waste all their time in frivolous things. Shouldn't we Christians be at least as enthusiastic about the wonderful words of Scripture?
There are towns where the inhabitants, from dawn to dusk, feast their eyes on the tricks of innumerable magicians. They never tire of hearing dissolute songs that cause much impurity to spring up in their souls, and they are often called happy, because they neglect the cares of business and trades useful to life, and pass the time assigned to them on this earth in idleness and pleasure. They do not know that a theater full of impure sights is, for those who sit there, a common school of vice; that these melodious and immoral songs insinuate themselves into their souls, and all who hear them, eager to imitate the notes of harpers and pip­ers, are filled with filth.
Some others, who are crazy for horses, think they are backing their horses in their dreams; they harness their chariots, change their drivers, and even in sleep are not free from the folly of the day.
And shall we, whom the Lord, the great worker of marvels, calls to the con­templation of His own works, tire of looking at them, or be slow to hear the words of the Holy Spirit? Shall we not rather stand around the vast and varied workshop of divine creation and, carried back in mind to the times of old, shall we not view all the order of creation?
–St. Basil, Hexameron, 4.1
IN GOD'S PRESENCE, CONSIDER . . .
How much time do I give to television every day?
How much of that time could I spare for the Bible?
CLOSING PRAYER
Father, let me withdraw from everything evil, and teach me to dedicate myself completely to your service.
_____________________________________________________________________________________________________
Remember to subscribe to my feed so you will not miss a day! This recurring feature at The Catholic Blogger is possible through the cooperation of author Mike Aquilina and publisher Saint Benedict Press. To get your own copy of this book, click below.