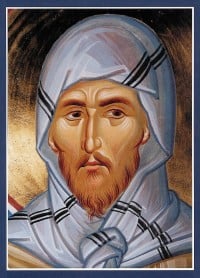 Take your Christian life seriously
St. Ephrem the Syrian reminds us of what it means to live as a Christian. We can't just say we believe in these things: we actually have to do them.
Do not resist evil, for whoever resists evil is evil from the evil one.
Do not keep back anything from anyone, so that if he perishes you will not be blamed.
Do not change your respect for someone according to his goods and possessions.
Do everything as if nothing existed and God alone was in being.
If you ask something of your neighbor and he does not give you what you want, make sure you do not in your anger say a bitter word.
Do not oppose the seasons, for the changes are many.
Put sorrow far from your flesh, and sadness from your thoughts—except that you should constantly be in sadness for your sins.
Do not stop working, even if you are rich, for the slothful earn much guilt from their idleness.
–St. Ephrem the Syrian, Homily on Admonition and Repentance, 15
IN GOD'S PRESENCE, CONSIDER . . .
How well does my daily life meet the Christian standard?
Which of the areas St. Ephrem mentions do I most need to work on?
CLOSING PRAYER
Lord, maintain my devotion and forgive my transgressions, and give me strength wherever I am deficient in your service.
_____________________________________________________________________________________________________
Remember to subscribe to my feed so you will not miss a day! This recurring feature at The Catholic Blogger is possible through the cooperation of author Mike Aquilina and publisher Saint Benedict Press. To get your own copy of this book, click below.