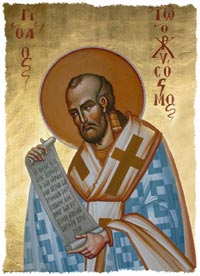 The more you work, the more you need Scripture
Scripture isn't just for monks, says St. John Chrysostom. In fact, the more involved you are with the world, the more you need Scripture..
"I'm not a monk," you might say. "I have a wife and children. I have to take care of my household."
But this is what ruins everything—your thinking that only monks need to read the divine Scriptures. You need it much more than they do. Those who live in the world and are wounded every day have the most need of medicines. So it's far worse than not reading to think that you don't need to read. That's a devilish idea. Don't you hear Paul saying that these things "were written down for our instruction" (1 Corinthians 10:11)?
If you want to know how important it is to read Scripture, examine yourself. Think what you become by hearing the Psalms, and what you become by listen­ing to a song of Satan. Think how you feel when you stay in a church, and how you feel when you sit in a theater. Then you'll see that there is a great difference between this soul and that, although they're both the same soul. This is why Paul said, "Bad company ruins good morals." For this reason we always need those songs that serve as charms from the Spirit.
–St. John Chrysostom, Homily 2 on Matthew, 10
IN GOD'S PRESENCE, CONSIDER . . .
What do I find when I examine myself the way St. John Chrysostom suggests?
Am I a different person under the influence of the Psalms from what I am under the influence of the latest pop hit?
CLOSING PRAYER
Lord, enlighten my meditations to hear and understand your life-giving and divine commands.
_____________________________________________________________________________________________________
Remember to subscribe to my feed so you will not miss a day! This recurring feature at The Catholic Blogger is possible through the cooperation of author Mike Aquilina and publisher Saint Benedict Press. To get your own copy of this book, click below.