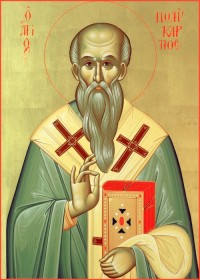 See the New Covenant in the Old
Moses received the Law directly from God in the desert. A Christian, says St. Irenaeus, sees that the Law of Moses, and all the sights and sounds of the ancient Israelite religion, were symbolic foreshadowings of the perfect New Covenant that would come with Jesus Christ.
In the wilderness Moses received the Law from God, the Ten Words on "tables of stone, written with the finger of God" (Exodus 31:18)—the finger of God means what is stretched forth from the Father in the Holy Spirit—and the com­mandments and ordinances that he delivered to the children of Israel to observe.
And he built the tabernacle of witness by the command of God. It was the visible form on earth of those things that are spiritual and invisible in the heavens, and a figure of the form of the Church, and a prophecy of things to come. In that tabernacle were also the vessels and the altars of sacrifice and the ark in which he placed the tables of the Law.
And he appointed as priests Aaron and his sons, assigning the priesthood to all their tribe, the seed of Levi. Moreover, he summoned this whole tribe by the word of God to accomplish the work of service in the temple of God, and gave them the Levitic Law, which tells what kind of men those ought to be who are continually employed in performing the service of the temple of God.
–St. Irenaeus, Demonstration of the Apostolic Preaching, 26
IN GOD'S PRESENCE, CONSIDER . . .
Have I made an effort to know and understand the Old Testament as well as the New?
At the most recent Mass I attended, how were the Old Testament readings related to the New Testament readings?
CLOSING PRAYER
Lord, send your Holy Spirit to clear the clouds that darken my understanding, so that I may understand the meaning and the wonders of your law.
_____________________________________________________________________________________________________
Remember to subscribe to my feed so you will not miss a day! This recurring feature at The Catholic Blogger is possible through the cooperation of author Mike Aquilina and publisher Saint Benedict Press. To get your own copy of this book, click below.