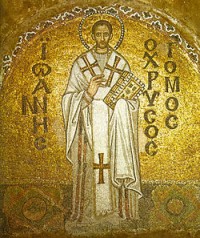 Pay careful attention to Scripture
About to begin a series of homilies on the Gospel of Matthew, St. John Chrys­ostom warns his congregation to pay careful attention.
We are on the point of entering (if God permits it) a city of gold, and more precious than any gold. Let us mark her foundations, and her gates of sapphire and pearl—for we have an excellent guide in Matthew. His is the gate through which we shall now enter, and we need to be very diligent. For if he sees anyone not paying attention, he throws him out of the city.
Yes, for the city is most royal and glorious—not like the cities among us, where there's a marketplace and royal courts, for there everything is the court of the King. So let us open the gates of our mind. Let us open our ears, and—with great trembling—as we are about to set foot on the threshold, let us worship the King who is in it.
–St. John Chrysostom, Homily 1 on Matthew, 17
IN GOD'S PRESENCE, CONSIDER . . .
How do I approach Scripture whenever I encounter it—at Mass or at home?
CLOSING PRAYER
Lord, grant me through your grace to gather from your Word the assurance of love, hope, and salvation.
_____________________________________________________________________________________________________
Remember to subscribe to my feed so you will not miss a day! This recurring feature at The Catholic Blogger is possible through the cooperation of author Mike Aquilina and publisher Saint Benedict Press. To get your own copy of this book, click below.