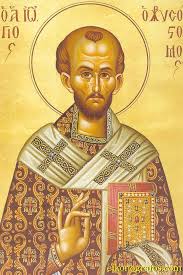 Don't neglect Scripture
If we had not fallen through our own sin, we would have been in close com­munion with God, as Adam and Eve were at the beginning. Since we've lost that privilege, says St. John Chrysostom, we should be careful to make use of Scripture, through which the Spirit of God speaks to us.
We ought to live so purely that we do not even need written words, but give up our hearts, as if they were books, to the Spirit. But now that we have lost that honor, and do have need of written words, think what a great evil it is for us to fail again in using even this remedy as much as we ought.
For if it is a shame to be in need of written words, and not to have brought down on ourselves the grace of the Spirit, think what a weighty charge it is that we choose not to profit even after this help, but treat what is written with neglect, as if it were tossed out at random with no purpose. That would be to bring down even more punishment upon ourselves!
To avoid anything like that, let us pay close attention to what has been written.
–St. John Chrysostom, Homily 1 on Matthew, 2
IN GOD'S PRESENCE, CONSIDER . . .
Do I make the use of Scripture that God wants me to make?
CLOSING PRAYER
Lord, though I am unworthy, make me worthy to attend to your Scripture in wisdom.
_____________________________________________________________________________________________________
Remember to subscribe to my feed so you will not miss a day! This recurring feature at The Catholic Blogger is possible through the cooperation of author Mike Aquilina and publisher Saint Benedict Press. To get your own copy of this book, click below.