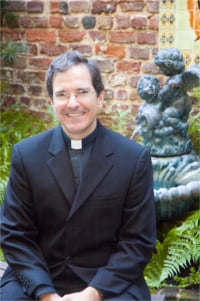 Welcome back to "The Clergy Speaks", a recurring feature here at The Catholic Book Blogger. "The Clergy Speaks" is a column focusing on one question I have asked various members of the clergy. That question is: What five books would you recommend as must-reads for Catholics today? I left the responses open to current or classic books with the only restriction being that the Bible and the Catechism could not be used as they are a given. This week we welcome Father Scott Hurd.
Reverend R. Scott Hurd is a priest of the Archdiocese of Washington, D.C. Fr. Scott began his ordained ministry as an Episcopal priest and entered the Catholic Church in 1996. He holds degrees from Oxford University and the University of Richmond.
Drawn from his pastoral ministry and personal experience, When Faith Feels Fragile is Fr. Scott's third book.  He has also penned the award-winning, best-seller Forgiveness: A Catholic Approach (Pauline Books and Media, 2011) and Daily Devotions for Lent 2013 (Ave Maria Press, 2012).
He has served as Executive Director of the Archdiocese of Washington's Office of the Permanent Diaconate and as Vicar General of the Personal Ordinariate of the Chair of Saint Peter.
Here are his picks for 5 must reads for Catholics today:
Pete, I am grateful for the opportunity to participate in "The Clergy Speaks." God bless you for your efforts in promoting good Catholic books through your fine blog. Here are five books that have touched my life, and that I would happily recommend to your readers: