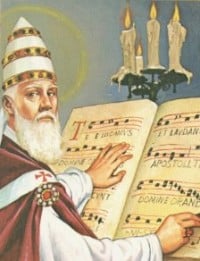 The heavens are opened in the Eucharist
A medieval legend told how St. Gregory the Great had actually seen a vision of Christ himself in the bread of the Eucharist. But here St. Gregory tells us that we can all see the same thing—not with our eyes, but with our faith. The sacrifice of Christ on the Cross is re-presented for us at every Mass.
We must be careful to remember that it is far safer and more secure that we should all do for ourselves, while we are alive, what we would want others to do for us after we die. It is far more blessed to leave this world free, than to be in prison and look for release. Reason, therefore, tells us that we should disdain this present world with all our soul, at least because we see that it is now over and done with, and that we should offer to God the daily sacrifice of tears, and the daily sacrifice of his body and blood.
For this sacrifice especially saves our souls from eternal damnation. In mys­tery it renews for us the death of the Son of God. Though he is risen and no longer dies, nor shall death prevail against him any more, yet, living immortally in himself, and completely uncorrupted, he is sacrificed for us again in this mystery of the holy offering. There his body is received; there his flesh is distributed for the salvation of the people; there his blood is shed—this time not by the hands of infidels, but poured into the mouths of the faithful.
Let us meditate, then, on what kind of sacrifice is ordained for us, which, to wash away our sins, always presents the suffering of the only Son of God to us again. For what right-minded Christian can doubt that, at the moment of the sac­rifice, at the words of the priest, the heavens are opened, and the choirs of angels are present in that mystery of Jesus Christ? Or that exalted things go along with low things, and earthly things are joined to heavenly things, and one thing is made of both visible and invisible?
–St. Gregory the Great, Dialogues, 5.58-59
IN GOD'S PRESENCE, CONSIDER . . .
How do I approach the holy sacrifice of the Eucharist?
Do I bring a contrite heart as my own part in the sacrifice?
CLOSING PRAYER
Lord Jesus Christ, I praise you for your saving sacrifice, which you offered on the Cross for me and for all humanity. I praise you for the precious blood that flowed from your wounds and washed away the sins of the world. Remember me, whom you redeemed with your blood, and let your body and blood strengthen me to do what is pleasing to you.
_____________________________________________________________________________________________________
Remember to subscribe to my feed so you will not miss a day! This recurring feature at The Catholic Blogger is possible through the cooperation of author Mike Aquilina and publisher Saint Benedict Press. To get your own copy of this book, click below.