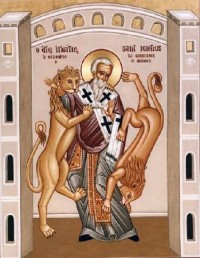 Find your delight in heavenly food
On his way to martyrdom in Rome, St. Ignatius of Antioch begs the Roman Christians not to try to save him. He is through with the things of this world; he longs for the bliss of heaven.
The prince of this world wants to carry me away and corrupt my disposi­tion toward God. None of you in Rome should help him. Be on my side instead— that is, on God's side. Don't talk about Jesus Christ, and then set your desires on the world. Don't let envy find a home among you. Even if I should urge you to it when I'm with you, don't listen to me. Instead, believe what I'm writing to you now.
For though I'm still alive while I'm writing to you, I'm eager to die. My desire has been crucified, and there is no fire in me that needs stoking. But there is in me a water that lives and speaks, saying to me inside, "Come to the Father."
I have no delight in food that decays, or in the pleasures of this life. What I desire is the heavenly bread, the bread of life, which is the flesh of Jesus Christ, the Son of God, who later became the seed of David and Abraham. I desire the drink of God, namely his blood, which is incorruptible love and eternal life.
–St. Ignatius of Antioch, Romans, 7
IN GOD'S PRESENCE, CONSIDER . . .
Do earthly desires hold me down and keep me from seeing the greater joy that waits for me?
CLOSING PRAYER
Lord, open the eyes of my understanding, so that I may partake of your heavenly and im­mortal food without fear of condemnation.
_____________________________________________________________________________________________________
Remember to subscribe to my feed so you will not miss a day! This recurring feature at The Catholic Blogger is possible through the cooperation of author Mike Aquilina and publisher Saint Benedict Press. To get your own copy of this book, click below.