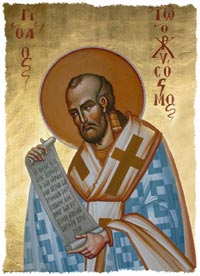 Take some time to reflect after Mass
Do we forget everything that happened at Mass as soon as we burst out the church door?We shouldn't let that happen, says St. John Chrysostom. Take some time after Mass to digest what you've heard there, or it will do you no good at all.
I hear many say, "While we're here and have the privilege of hearing, we are awed, but when we leave, we change again, and the fire of enthusiasm goes out."
So what can we do to keep this from happening? Let's figure out how it hap­pens. Where does such a great change in us come from? It comes from the inap­propriate use of our time, and from the company of evil people.
We shouldn't jump right back into business unsuited for church as soon as we leave church. Instead, as soon as we get home, we ought to take our Bible in our hands, and call our wife and children to join us in putting together what we've heard—and then, not before, go back to the business of life.
After the bath, you don't hurry into the marketplace, because the business of the market would destroy the refreshment of the bath. Well, we have much more reason to act on the same principle after church. But in fact we do the opposite, and thus we throw away everything. While the good effect of what has been said to us is not settled yet, the great force of the things that press on us from outside sweeps everything away completely.
To keep this from happening, when you go home from church, you should think nothing more necessary than that you should put together the things that have been said to you. It would be the worst kind of folly if, while we give five and even six days to the business of this life, we wouldn't give even one day to spiritual things—or rather not so much as a small part of one day.
–St. John Chrysostom, Homily 5 on Matthew, 1
IN GOD'S PRESENCE, CONSIDER . . .
What do I do on Sundays after Mass?
Could I be using that time—even half an hour of it—a little better?
CLOSING PRAYER
Lord, have mercy on me, and let me spend the whole day perfect, holy, peaceful, and without sin.
_____________________________________________________________________________________________________
Remember to subscribe to my feed so you will not miss a day! This recurring feature at The Catholic Blogger is possible through the cooperation of author Mike Aquilina and publisher Saint Benedict Press. To get your own copy of this book, click below.