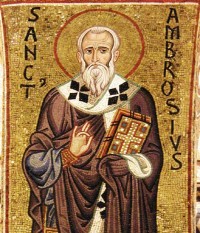 The "anger" of Christ is his mercy
When we say that Christ is "angry" with sinners, says St. Ambrose, we don't mean that he's carried away by rage. We mean that he's doing everything he can to bring us back into his forgiveness.
Isn't it obvious that the Lord Jesus is angry with us when we sin so that He may convert us through fear of his indignation? So his indignation is not re­venge, but rather the working of forgiveness, For these are his words: "If you will turn and lament, you will be saved."
He waits for our lamentations here in time, so that he may spare us from eternal lamentations. He waits for our tears, so that he may pour out his goodness. Thus in the Gospel, having pity on the tears of the widow, he raised her son. He waits for our conversion, so that he himself may restore us to grace, in which we would have continued if the fall had not conquered us.
He is angry because we have incurred guilt by our sins, so that we may be humbled. We are humbled so that we may be found worthy of pity rather than of punishment.
–St. Ambrose,
Two Books on Repentance,
1.22
IN GOD'S PRESENCE, CONSIDER . . .
Do I have enough healthy fear of Jesus' anger to make me repent as I should?
CLOSING PRAYER
Lord, do not let my soul, weighted down by sin, squander your gift of life. Keep me from being tied to earth by my sins, and let me remember what is eternal.

_________________________________________________________________________________________________________________
Remember to subscribe to my feed so you will not miss a day! This recurring feature at The Catholic Blogger is possible through the cooperation of author Mike Aquilina and
publisher Saint Benedict Press
. To get your own copy of this book, click below.