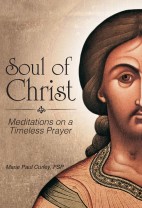 The Anima Christi Prayer is one that has been around for a very long time. It dates back to the early fourteenth century with an authorship that is uncertain. St. Ignatius of Loyola is sometimes mistakenly attributed as its author due to his inclusion of it in his Spiritual Excercises. The prayer is widely used by many after receiving communion. Thanks to Sister Marie Paul Curley it can now be used as a beautiful source of meditation in her book Soul of Christ: Meditations on a Timeless Prayer.
What follows is the prayer for those unfamiliar:
Soul of Christ, sanctify me.
Body of Christ, save me.
Blood of Christ, inebriate me.
Water from the side of Christ, wash me.
Passion of Christ, strengthen me.
O Good Jesus, hear me.
Within your wounds hide me.
Permit me not to be separated from You.
From the malignant enemy defend me.
In the hour of my death, call me
And bid me come to You,
That with Your saints I may praise You
Forever and ever. Amen.
Sister Marie Paul devotes an entire chapter to each of the petitions of the prayer. The book can be used for personal prayer, group study or Eucharistic adoration. Each of the chapters is divided into two sections. From the opening chapter:
"The first section is a reflection on each phrase of the particular petition from a Eucharistic perspective. The wording of this prayer is so rich that the reflection is meant to be simply a starting place for your on Contemplation of Christ and the mysteries of our faith."
"The second section explores the petition more prayerfully in the light of a particular Scripture passage. You can continue reading this section straight through – as you have the previous one – or you can use it for praying an hour of adoration with the assistance of the additional notes in the margins."
Without sounding too dramatic….this…book…. is….amazing! I have not read a prayer resource that so effectively drew me into the meditations like this book did. The second section of each chapter goes deep into the petition covered and truly provides a fantastic springboard for contemplation and prayer. As far as use for adoration, the book follows the three-movement hour of adoration developed by Blessed James Alberione. If you are not familiar with this holy man and founder of the Society of St. Paul, you certainly will be by the end of this book. Sister Marie Paul sprinkles every chapter with the writings and prayers of Blessed James, a beautiful addition to the book.
In closing, this book provides something quite valuable. It beckons the reader into a personal prayer relationship with Christ. This relationship is rooted deep in contemplative meditation. Encountering Jesus Christ and continually growing in union with Him should be a central focus of our faith journey. I cannot think of any better way to describe this than quoting directly from the author herself. "Because holiness happens in relationship. On one side is God who reaches out to us – our God who loves us into being and consistently offers us grace. On the other side, we stand as sinful beings, free to welcome, reject , deny or resist God's embrace." Sister Marie Paul Curley has given as a tool for realizing this personal relationship with Christ and for that we owe her much gratitude.
___________________________________________________________________________________________