Weep, and find joy
Weeping for our sins is the route to joy, says St. John Chrysostom. Real remorse and confession cleanse the soul, and God rewards our tears with peace.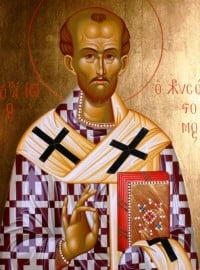 Much as after a violent burst of rain there is a clear open sky, so when tears are powering down, a calm follows, and peace, and the darkness that goes with our sins completely disappears. And as we were cleansed by water and the Spirit, so by tears and confession we are cleansed a second time—unless they are tears for display and vanity, for I would say that a woman whose tears were like that was justly condemnable, more so than if she had tarted herself up with lines and coloring.
I'm looking for tears that are shed not for display, but for remorse: the tears that trickle down secretly behind closed doors, in sight of no one else, softly and noiselessly—tears that rise from a certain depth of mind, those shed in anguish and sorrow, those that are for God alone.
Hannah's tears were like that: "her lips moved, and her voice was not heard," says the text (1 Samuel 1:13). But her tears alone uttered a cry clearer than any trumpet. And because of this, God opened her womb, and made the hard rock a fruitful field.
–St. John Chrysostom, Homily 6 on Matthew, 8
IN GOD'S PRESENCE, CONSIDER . . .
Am I really sorry for my sins? Or am I still holding on to some of them?
CLOSING PRAYER
Lord, forgive my sins when I confess them to you, and in your merciful love, give me your pardon and your peace.
____________________________________________________________________________________________________
Remember to subscribe to my feed so you will not miss a day! This recurring feature at The Catholic Blogger is possible through the cooperation of author Mike Aquilina and publisher Saint Benedict Press. To get your own copy of this book, click below.