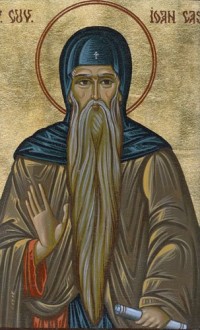 Give the credit to God
The Syrian abbot Chaeremon tells St. John Cassian that we can't give ourselves the credit for something even if we worked hard for it. God alone deserves the credit, since without God's mercy we would not have been able to do anything.
The exertions of the worker can do nothing without God's aid.
The farmer, for example, when he has taken great care in cultivating the ground, cannot immediately ascribe the produce of the crops and the rich fruits to his own efforts. His efforts are often in vain unless fortunate rains and a quiet and calm winter aid them. We have often seen fruits already ripe and set and thor­oughly matured practically snatched from the hands of those who were grasping them. Their continuous and earnest efforts were of no use to the workers because they were not under the guidance of the Lord's assistance.
So, since the divine goodness does not grant these rich crops to idle husband­men who do not till their fields by frequent plowing, so also toil all night long is of no use to the workers unless the mercy of the Lord makes it productive.
But in this human pride should never try to put itself on a level with the grace of God or to mix itself with it, so as to imagine that its own efforts were the cause of divine bounty, or to boast that a very plentiful crop of fruits was an answer to the merits of its own exertions. For a man could not by his own strength apply those very efforts he has earnestly used in his desire for wealth, unless the Lord's protection and pity had given him strength for the performance of all the farm work; and that his own will and strength would have been powerless unless divine compassion had supplied the means for the completion of them, as they sometimes fail either from too much or from too little rain.
–St. John Cassian, Conferences, 13.3
IN GOD'S PRESENCE, CONSIDER . . .
When I feel like I've accomplished something worthwhile, do I remember to give thanks to God for the accomplishment?
CLOSING PRAYER
Lord, do not cast me out of your presence, but pass by my sins in your multitude of mercies.
____________________________________________________________________________________________________
Remember to subscribe to my feed so you will not miss a day! This recurring feature at The Catholic Blogger is possible through the cooperation of author Mike Aquilina and publisher Saint Benedict Press. To get your own copy of this book, click below.