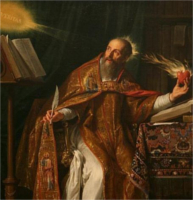 Beware of desiring praise
Most of us need people to think well of us—that's how we get and keep the jobs that feed our families. But St. Augustine warns us that it's far too easy to let that praise go to our heads. The devil wants us to find our joy in the praise of others rather than in God.
Wanting to be feared and loved by other people, for no other reason than to experience a joy that is really no joy, is a miserable life. It's just worthless show­ing off. It leads to not loving God or devoutly fearing him.
In human society, there are certain jobs that make it necessary to be loved and feared by other people. The enemy of our true happiness therefore presses hard on us, scattering his traps of "Well done! Well done!" everywhere—so that, while we eagerly pick them up, we may be caught by surprise, and separate our joy from God's truth, attaching it to the deceits of other people. Then we take pleasure in being loved and feared, not for the sake of God, but instead of God.
Truly the one who praises is better off than the one who is praised. For the one who praised was pleased by the gift of God in man, but the one who was praised was better pleased with the gift of man than with the gift of God.
–St. Augustine, Confessions, 10.35
IN GOD'S PRESENCE, CONSIDER . . .
Do I value the opinions of others more than I value God's opinion of me?
Do I remember to thank God for all my successes?
CLOSING PRAYER
Lord, though I am an unworthy servant, accept the prayer I offer, and deem me worthy of your blessing; for you are my sanctification, and I ascribe all glory to you.
_____________________________________________________________________________________________________
Remember to subscribe to my feed so you will not miss a day! This recurring feature at The Catholic Blogger is possible through the cooperation of author Mike Aquilina and publisher Saint Benedict Press. To get your own copy of this book, click below.