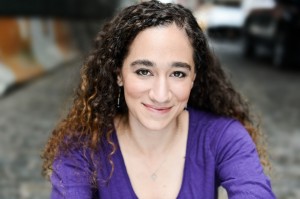 PETE: For those who do not know you, prior to 2012 you were an active blogger on the Patheos Atheist channel. In 2012 you converted and moved to the Catholic channel. Can you tell readers who have not read your book yet about your conversion?
LEAH LIBRESCO: I can give a short summary – I have space for more details in the book.  I grew up as an atheist and the way I made sense of ethics was very rule-based (deontology).  As I grew older and started reading more philosophy, I switched to understanding ethics not just as a matter of getting the right answers but by being changed by the choosing, and building up a gracefulness in my moral instincts (virtue ethics).  This new position was harder to ground in a conventional atheistic framework, because I had trouble with the problem of how I wound up having knowledge of a transcendental good.  After a lot of arguments, book swaps, and blogging, I wound up thinking it was more likely that God was real than that some kind of Virtue Ethics-y thing wasn't (and those felt like the choices!).
PETE: Three years later you have now written your first book Arriving at Amen: Seven Catholic Prayers That Even I Can Offer. Did you ever think you would write a book let alone a Catholic one?
LEAH LIBRESCO: I didn't expect to write a book; I usually write in shorter formats (and I had a lot of trouble finishing my college thesis on time).  Ultimately, I used the same strategy for the book as I did for the thesis – I broke everything down into small stories to tell: Why is the repetition of the rosary like the basic of ballroom dance?  How did praying in ASL help me get a handle on reading the Bible?  And so forth.
Plus, I took the advice from one of the books on writing I read: skip the boring parts!  If something is a drag to write, it's probably a drag to read, so I wrote only the things I knew about prayer that were really a delight to share and (as the how-to predicted) wound up not needing anything else.
PETE: Of the seven practices you offer in your book whoch one has been the most transformational for you in your faith journey?
LEAH LIBRESCO: I'd have to say Confession, because it's the most obviously transformational.  Before I was actually participating in the Sacrament of Reconciliation (and for a little bit after), I thought of Confession as being a sort of rolling back the clock/wiping the slate clean; it restores me to who I was before my most recent round of sins.
But that wouldn't do me much good at all!  Who I was right before my recent sins was… a person about to succumb to sin.  It's not enough to be cleansed, I need to be transfigured, to grow and be closer to Christ.  So that's one way I think about Confession, not simply the healing of the wounds of sin but a transfiguration of them, so that the breaks wind up being a reminder of God's love and closeness to me, not something that vanishes and allows me to pretend I'm just taking another shot at my choices alone.
All of Christian spiritual life is the practice of choosing to accept the growth and transfiguration that God offers; confession is where that's most obvious to me and I can do it with the most gusto.
PETE: For those struggling with the Catholic faith what advice can you offer as a convert?
LEAH LIBRESCO: It depends a little on the nature of the struggle.  If you're making your mind up about the Catholic faith, I can give you the advice that Eve Tushnet (author of the splendid Gay and Catholic) gave to me: try to seek out both the things that really attract you and the bits that really repel you – that's where you have the most to learn.
I'd add that, while you're in a period of decision making/discernment, don't be afraid to go slowly on actually making up your mind.  Cultivate that Tushnet brio, engaging deeply with whatever confuses you, but feel free to give yourself time to come to a conclusion.  Decisions should be made from a place of consolation, and don't be shy about doing what you need to get there (taking a retreat, sleeping on a more reasonable schedule, asking friends to think things through with you, etc).
If you already are Catholic and pretty settled that way, but you're having trouble being Catholic/praying/etc on a day to day basis, I'd say: don't be embarrassed about making things easy on yourself!  It's more important to find a baby step you can take than to wait around until you can do a big, more impressive thing.
I was really intimidated by lectio divina, the prayerful reading of the Bible, and I kept not doing it because I didn't want to be bad at it, so, naturally, I didn't get any better.  I wound up just setting a 20 minute timer, promising myself I could stop after that, no matter what, and it gave me a little more courage to begin, since I wouldn't need to worry about being stuck doing something hard indefinitely or constantly interrupting myself, wondering if I'd done enough.
PETE: Your first book was a fine one indeed. Do you have anymore in you and what would you like to write about next?
LEAH LIBRESCO: Well, I'd like to write about using Stephen Sondheim's musicals as guides to the Four Loves, but I'm a little doubtful that that's really a plausible book.  I have found that hosting viewings of them has been a great way to open up discussions of romantic love and friendship—the shows have helped me and my friends think about what these loves look like, when directed to their proper ends, and how we wind up going awry.  Plus the shows are great, period.
(I've done some posts on Company and Passion, plus another series on Merrily We Roll Along)
PETE: Time for my signature ending question. This is a blog about books. What is currently on your bookshelf to read?
LEAH LIBRESCO: I have two book discussions coming up with friends.  One on Dostoyevsky's The Idiot and the other on Fr. Henri Nouwen's The Return of the Prodigal Son: A Story of Homecoming, and I'm really excited about both!  I've read the Nouwen before and loved it, and I can't wait to discuss it with others and get the chance to try to live up to the calling that Nouwen describes.  On my own, I'm excited for Max Gladstone's Last First Snow (coming out in July) and Mary Norris's Between You & Me : Confessions of a Comma Queen  (I'm getting ever closer to the front of the waiting list at the library).
_____________________________________________________________________________________________________