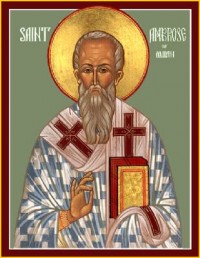 Nothing gets past God
Do you think that anything escapes God's notice? asks St. Ambrose. Even when we shut out the sun, its heat penetrates the innermost rooms of our house. Think how much more penetrating God must be.
But what can be more foolish than to suppose that anything escapes God's notice, when the sun that supplies our light enters even hidden spots, and the strength of its heat reaches to the foundations of a house and its inner cham­bers? Who can deny that the depths of the earth, when the ice of winter has bound them together, are warmed by the mildness of spring? Surely the very heart of a tree feels the force of heat or cold, to such an extent that its roots are either nipped with the cold or sprout forth in the warmth of the sun. In short, wherever the mildness of heaven smiles on the earth, there the earth produces in abundance fruits of different kinds.
So if the sun's rays pour their light over all the earth and enter into its hidden spots; if they cannot be stopped by iron bars or the barrier of heavy doors from getting inside, how can it be impossible for the Glory of God, which is filled with life, to enter into the thoughts and hearts of men that he himself has created? And how shall it not see what he himself has created? Did he make his works to be better and more powerful than he himself is, so that they could escape the notice of their Creator whenever they wanted to? Did he implant such perfection and power in our mind that he himself could not comprehend it when he wished?
–St. Ambrose, On the Duties of the Clergy, 1.14
IN GOD'S PRESENCE, CONSIDER . . .
Do I try to keep secrets from God?
What secrets are they?
CLOSING PRAYER
Father, I thank you for sending the Light of your truth, your only-begotten Son, to restore and renew me and bring me back to your law.
____________________________________________________________________________________________________
Remember to subscribe to my feed so you will not miss a day! This recurring feature at The Catholic Blogger is possible through the cooperation of author Mike Aquilina and publisher Saint Benedict Press. To get your own copy of this book, click below.