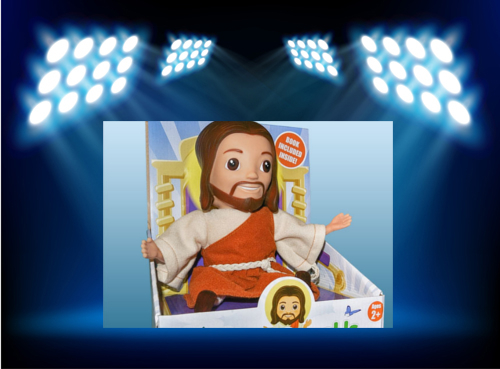 Jesus Sees Us is a two-in-one pack for kids. Included are, first and foremost a doll of Jesus. The doll will easily become your child's companion. Though this may sound bad, my youngest three had a few moments of "sibling rivalry" as to which would get to play with Jesus first. The doll is constructed with a soft body, hard hands, feet and head. The head is oversized and has an inviting smile. The doll's design is intentionally made as welcoming to children so that, in combination with the stories from the included book, they get an understanding and trust in Jesus and his teachings.
There are ten lessons included in the book. Each of these lessons consist of a Bible reference and a modern story that serves as an example of what is being taught by Jesus. Also included is the specific bible verse being referenced. The Beatitudes are the focus of this short life lessons. Artwork in the book is rendered in a fashion that kind of reminded me of Little People. The illustrations of Jesus match the doll so that your children can associate the two and play out what they have learned in the story.
To give you an idea of the contents I will focus upon one lesson from the book. This particular lesson is titled Tell the Truth. Under a picture rendering the scene of Jesus teaching a group of followers is the following:
"Jesus never lied. He always told the truth, even when it was hard to do."
The opposite page ties this to a modern example. The scene portrayed are of two boys, a baseball and a broken vase. I think you know where this is going:
"Always tell the truth, even if you're worried it might get you in trouble. Jesus is proud of you when you tell the truth and will always be there to forgive you! Sometimes when you make mistakes, telling the truth can be difficult. When you do the right thing by telling the truth, Jesus smiles!"
In closing this is a set that I think many children will enjoy. There is play value with the Jesus doll and learning value with the book. This is also a great gift idea for any Christian children. The end of the book I think states it best. "The Jesus Sees Us doll reminds us that Jesus is ALWAYS by our sides to give us love, strength, and support throughout our days and nights. Now that you have your Jesus Sees Us doll, learn more about the gifts that Jesus gives you b being in your life! Jesus will always be there, watching you learn and grow." Safe in this knowledge children will benefit from the lessons they are taught. Simple lessons that provide them with a firm foundation as they grow. They indeed have a friend in Jesus who will see them through anything.
To get your own or learn more about the Jesus Sees Us Doll and Book set visit the publishers website at http://jesusseesus.com/