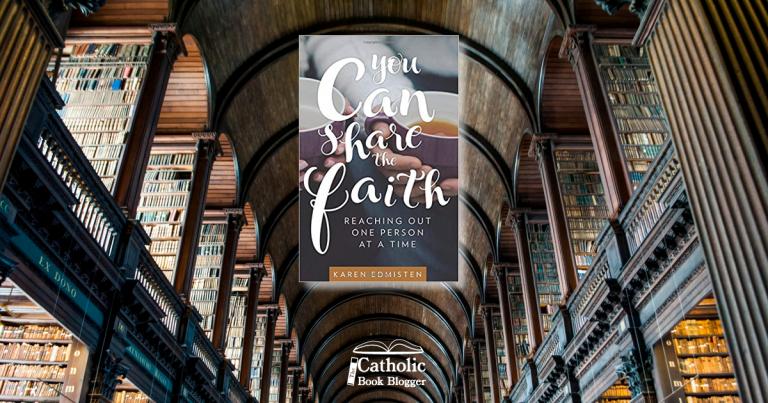 Review by Julie Abell
Early in the spring I read You Can Share the Faith: Reaching Out One Person at a Time
by Karen Edmisten, loved it, got ready to write a review, got distracted, forgot to write the review, and started reading another book…and another. See, I love to read, but I discovered that I don't necessarily like to take the time to write/type. However, last night I recommitted to writing my reviews and today I picked up this book again, scanned it, fell in love again and here I am writing to tell you to read it, too.
Published in 2016 by Our Sunday Visitor, Inc. this book delivers a jolt of hope. I love conversion stories and Karen's story mixed with the stories of her friends' conversions or reversions is frank and captivating. She does not hide the struggles that she encountered along the winding road from atheism to devout Catholic. Chapter titles such as "Do Remember That You're Being Watched," Do Fall in Love with Jesus," and "Don't Forget that Conversion Comes in Stages" openly pronounce what the reader will hear about.
One of my favorite stories within this book comes in the chapter titled "Do Hang Out with All Kinds of People" in which Karen tells the story of how a certain special friendship over several years resulted in that friend and her family getting baptized and then entering the Catholic Church. There was no pressure, no trickery, no judgement, just souls connecting and then God did the rest in His Own timing.
A quick read, it is a book that can be picked up before you head off on your summer vacation as it is lighthearted and spunky – just the thing you need to keep your spirits up and your faith ever growing. Enjoy!