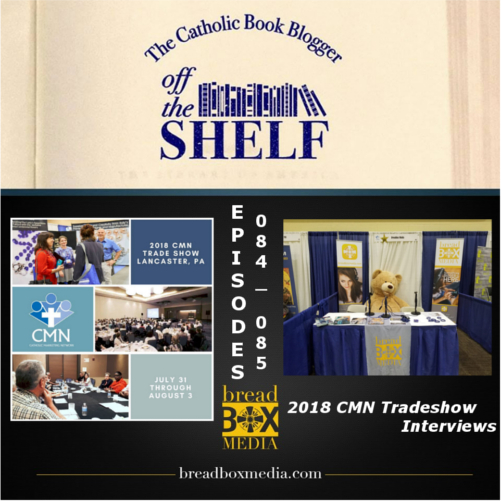 The Catholic Marketing Newtork Tradeshow is THE annual event to be at if you want to see the latest in Catholic products or to meet authors and learn about their books. This July 3 through August 3, Breadbox Media was in attendance with  a booth. Throughout the event I was able to interview on-site a number of Catholic authors. Those interviews became Episodes 084 and 085 of Off the Shelf. Full content of each show is listed below.
And that bear in the booth? When Father Andrew Apostoli was in a nursing home prior to his death in 2017 that 9-foot bear would sit in the lobby. His caretaker, Brother Simon, would bring Father Andrew down to the lobby and he would meet his visitors in front of that bear. Brother Simon took many pictures of Father Andrew with his guests and the bear. At the CMN show Brother Simon asked if Andrew bear  could be a guest at the Breadbox Media booth and we readily agreed.
Listen to Off the Shelf Episode 084 exclusively on Breadbox Media below.
Guests
Cathy Gilmore is an author, educator, founder and Executive Director of the VIRTUE WORKS MEDIA ministry. Cathy calls herself a Bionic Catholic: a"revert" to the Catholic faith for whom God's grace has turned her brokenness into strengths. She has written 2 books for children Little Lamb Finds Christmas and Easter Bunny's Amazing Day. In out interview we discuss the mission of Virtue Works Media.
Father Edward Looney is a Marian theologian and Catholic author and speaker who serves as a priest in the Diocese of Green Bay. He is the author of seven books and has contributed to numerous publications. We discuss his book A Heart Like Mary's: 31 Daily Devotions to Help You Live and Love as She Does.
Nancy Ward is a Catholic convert with forty years experience in writing and editing for SpiritualDirection.com, Zenit.com, CatholicMom.com, CatholicSpiritualityBlogs, and CatholicWritersGuild.com. We discuss her DVD Sharing Your Catholic Faith Story: Tools, Tips, and Testimonies.and her forthcoming companion book to the DVD.
Dennis McGeehan is a member of the Catholic Writers Guild. His personal blog page can be found at www.warriorsworlddad.com. During our segment we discuss his book The Diaries of Joseph and Mary.
Listen to Off the Shelf Episode 085 exclusively on Breadbox Media below.
Guests
Virginia Lieto in 2011, decided to leave a 36 year career to give the remainder of her life to God. Virginia is engaged in public speaking, as well as blogging about the Catholic faith. She is a member of the Society of Children's Book Writers and Illustrators, as well as the Catholic Writer's Guild. We discuss her children's book Adventures of Faith, Hope, and Charity: Patience.
Kimberly Cook is the author and illustrator and her work regularly appears on Catholic news and journalism sites. She runs TheLionofDesign.com – an outlet for thought and discussion on faith and  motherhood. We chat about two of her books My hand in Yours, Our Hands in His a 7-week Marriage Workbook and Into the Wilderness: A 40 Day Devotional for Single Catholic Women.
Maureen Cummings is a cradle Catholic, wife and mother of six, and a Secular Franciscan. A homeschooling parent for over 25 years, she now writes from Janesville, WI. Maureen is also a cancer survivor which is the topic of her book In God's Hands: Living Through Illness with Faith.
Tony Agnesi is an inspirational storyteller, author and blogger. His Sunday blog and Wednesday podcast have an International audience. We chat about Tony's penchant for being a storyteller and his book A Storytellers Guide to a Grace Filled Life and his forthcoming book A Storyteller's Guide to Joyful Service-Turing Your Misery into Ministry.
Virginia Pillars is the mother of four, one of whom suffered from a mental illness, and a grandmother of four with a passion for reaching out to families who are also affected. She details her journey through mental illness with her child in her memoir, Broken Brain, Fortified Faith: Lessons of Hope Through a Child's Mental Illness.