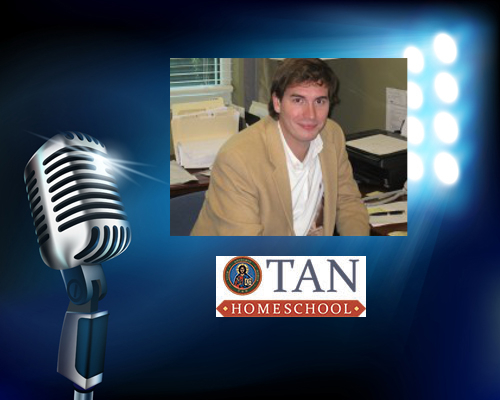 PETE: Brian, what is your role with TAN books and their new homeschooling initiative?
BRIAN KENNELLY:I've done a lot for TAN over the last two years, doing sales, writing, and editing, but in the last six months my primary focus has been to launch TAN Homeschool, serving as the Director for this new division of TAN Books.
PETE: Can you tell readers a little about the new homeschooling endeavor by TAN Books' new division TAN Homeschool?
BRIAN KENNELLY: TAN Books has been around for decades, preserving the faith and nurturing the souls of thousands upon thousands of Catholic adults with all our classic titles. Now, we want to preserve the Faith for the next generation. TAN has had a small sampling of beloved children's titles, like the Treasure Box set and the Windeatt series, and with the purchase of Neumann Press last year we added more books for younger readers. But now, with TAN Homeschool, we can feature those titles on a more focused platform, as well as come out with new products. Our tagline for TAN Homeschool is "Smart Kids. Joyful Families." We know the challenges homeschooling parents face (many of us homeschool overselves), so we want to provide them with the tools, resources, and support they need to have smart kids living in joyful, Catholic families.
PETE: Let's talk a little about your flagship product The Story of the Bible. There was a lot of work and thought that went behind this product line. Can you tell us a little about its development?
BRIAN KENNELLY: TAN has a title, Bible History: A Textbook of the Old and New Testaments for Catholic Schools, which was written in the 1930's and has been used for decades by Catholic homeschoolers. It's a great book, but had become dated. Sentences stretched for nearly half a page, they used words modern kids would never hear in their daily lives, the images were dark and blurry, and the general layout of the book was cluttered and messy. We knew the core of the book – the content – was still special; it just needed some window dressing. TAN editor, Paul Thigpen (Ph.D), and myself took the old text and separated it into two volumes, making it not so cumbersome. We then carefully edited the text to make it friendlier to the modern child, while still keeping the integrity of the content. We also hired a great artist to draw new and engaging illustrations. The result of all this was two new text books the kids will think are "cool" and "fun." Additionally, we created activity books for younger kids, test books for older kids, an audio drama of the text, and a DVD lecture series to accompany the text, giving parents a whole family of products to choose from. Story of the Bible uses the "Schoolhouse Model," which allows kids of all ages to engage with the content, and gives parents flexibility in crafting their lesson planning. In short, we like to look at the original TAN Title, Bible History, as the parent who passed on all its wisdom to the next generation, producing fun, beautiful, smart and creative "children" in the form of 12 new exciting products.
PETE: The Story of the Bible consists of two sets bases upon the stories of the Old and New Testament. Why did TAN Homeschool find it important to supply these resources to homeschoolers today?
BRIAN KENNELLY: The main feature that parents are sure to love with Story of the Bible is how engaging the content is, combined with the flexibility of how it can be delivered. It goes without saying that the Bible needs to be taught to our children, but it's a hard thing to teach. We have to make it fun without affecting the integrity of the Word. Story of the Bible combines approachable text books with media products and activity books. There is a whole host of ways parents can use this content. For example, the dramatized audio drama can be put in the car on a long summer road trip to entertain the kids, or it can be played at home as a child who struggles to read follows along with the text. Or, parents who don't have time to read the text book in order to teach the content can purchase the DVD lecture series where a teacher guides the student through the text book for them. It was important for us to supply this content because we know how difficult the homeschool life can be at times, but we also know how vital it is for these children.
PETE: What future products will be available from TAN Homeschool?
BRIAN KENNELLY: We have a bunch planned for the next 12-24 months. We will be releasing Story of Civilization next summer, a four volume series which will be a companion piece to Story of the Bible but will tackle world history. Unlike some other products out there, we will view the history of the world through a Catholic prism. We also have plans to develop workbooks for the Windeatt series, as well as high school editions for our media imprint, Catholic Courses.
PETE: What are TAN Books' overall wishes for their new homeschooling program?
BRIAN KENNELLY: I said it in the answer to the first question – we want to create Smart Kids and Joyful Families. We feel like Catholic homeschoolers are starting a new wave of hope in saving our society. They have lots of kids and they raise them in the Faith. Years from now, those kids are going to be running our churches and businesses. If we can, along with their parents, provide them with the support they need to be good, faithful Catholics, we'll have done our job. We hope our products, as well as our website – which has a blog filled with news and articles, as well as FREE tools and resources – will be a source of strength and comfort for homeschooling families.
____________________________________________________________________________________________________
You can learn more about these exciting products available from Tan Homeschool by visiting their website at http://www.tanhomeschool.com/