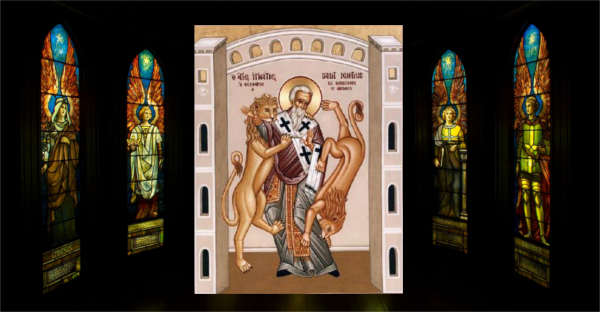 Be gentlest with the most abrasive people
Writing as bishop to bishop to St. Polycarp of Smyrna, St. Ignatius of Antioch advises him to win over the troublemakers with his mildness. The worse the wound, the gentler you have to be in treating it.
If you love the good disciples, no one owes you any thanks on that ac­count. But instead, try to subdue the more troublesome ones with your meekness.
Not every kind of wound is healed by the same dressing. Treat violent attacks by gentle applications. In everything, be wise as a serpent and harmless as a dove (Matthew 10:16).
This is why you are made of both flesh and spirit, so that you can deal ten­derly with the evils that show themselves before you.
–St. Ignatius of Antioch, Polycarp, 2
IN GOD'S PRESENCE, CONSIDER . . .
Who do I know who really annoys me?
What should I be doing to heal that wound?
CLOSING PRAYER
Lord, keep all backsliding Christians and all my enemies constantly in mind, and bring all who need your help under your divine mercy and care.
____________________________________________________________________________________________________
Remember to subscribe to my feed at the top of the page so you will not miss a day! This recurring feature at The Catholic Blogger is possible through the cooperation of author Mike Aquilina and publisher Saint Benedict Press. To get your own copy of this book, click below.