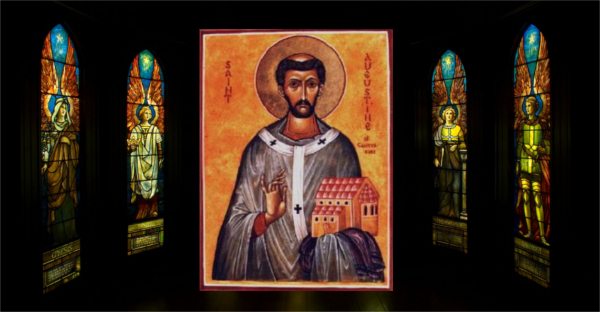 Don't be surprised when evil enters the Church
The earthly city and the city of God are all mixed up in this world, says St. Augustine. Yes, you will find wicked people in the Church—and yes, you will find good people outside it. These things are to be expected until the last judgment.
As long as she is a foreigner in the world, the City of God has in her com­munion, and bound to her by the sacraments, some who will not live forever in the destiny of the saints.
Some of these we do not recognize now. Others show themselves, and do not hesitate to make common cause with our enemies in grumbling against God, whose sacramental badge they wear. These are the people you see thronging the churches with us today, and crowding the theaters with the godless tomorrow.
But we have no reason to despair of reclaiming even such people, because even among our most declared enemies there are now some, unknown to them­selves, who are destined to become our friends.
In fact these two cities are entangled together in this world, and mixed up until the last judgment separates them.
–St. Augustine, City of God, 1.35
IN GOD'S PRESENCE, CONSIDER . . .
When I hear of scandals in the Church, do I let those scandals shake my faith?
CLOSING PRAYER
Lord, let my participation in your holy Church turn me away from every wicked thing, and let it be a support to me on my journey to life everlasting.
____________________________________________________________________________________________________
Remember to subscribe to my feed at the top of the page so you will not miss a day! This recurring feature at The Catholic Blogger is possible through the cooperation of author Mike Aquilina and publisher Saint Benedict Press. To get your own copy of this book, click below.