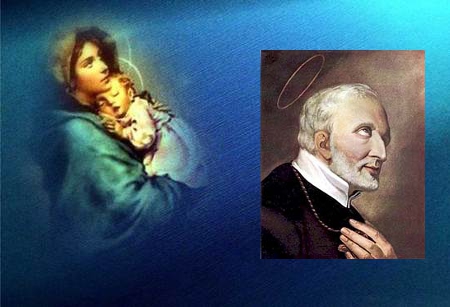 Love Mary as the saints have loved her
St. Alphonsus recalls some of the saints who have had a passionate devotion to Mary.
How much does the love of this good mother exceed that of all her children! Let them love her as much as they will; yet Mary will always be the most loving among lovers. Let them love her like St. Stanislaus Kostka, who loved this dear mother so tenderly that in speaking of her, he moved all who heard him to love her. He even created new words and new titles with which to honor her name. When he said her office, the Rosary, or other prayers, he did so with the same expressions and gestures of affection that he would have had if he had been speaking face to face with Mary. When the Salve Regina was sung, his whole soul and countenance were all enflamed with love.
Let us love Mary like St. Philip Neri, who was filled with consolation at the mere thought of Mary, and so called her his delight. Let us love her like St. Bonaventure, who called her not only his Lady and mother but also—in order to show the tenderness of his affection—even called her his heart and soul. Let us call her our beloved, like St. Bernardine of Siena, who daily went to visit a devotional picture of Mary, and there, in tender conversations with his queen, declared his love.
Let us love Mary like St. Aloysius Gonzaga, whose love for Mary burned so unceasingly that whenever he heard the sweetest name of his mother men- tioned, his heart was instantly enflamed, and his countenance lit up with a fire that was visible to all. Let us love her like St. Francis Solano who, as if gone mad with love for Mary (but with a holy madness), would sing before her picture, and accompany himself on a musical instrument, saying that like worldly lovers, he serenaded his most sweet queen. To sum up: Let us do, or desire to do, all that it is possible for a lover to do, who intends to make his affection known to the person loved. —St. Alphonsus Liguori, The Glories of Mary
IN GOD'S PRESENCE, CONSIDER . . .
St. Philip called Mary his delight; St. Bonaventure, his heart and soul. What special name would I give her to show my affection?
CLOSING PRAYER
From a prayer of St. Anselm: May my heart faint and my soul melt and be consumed with your love, O my beloved Savior Jesus, and my dear mother Mary!
____________________________________________________________________________________________________
Remember to subscribe to my feed so you will not miss a day! This recurring feature at The Catholic Blogger is possible through the cooperation of author Paul Thigpen and publisher Saint Benedict Press. To get your own copy of this book, click below.