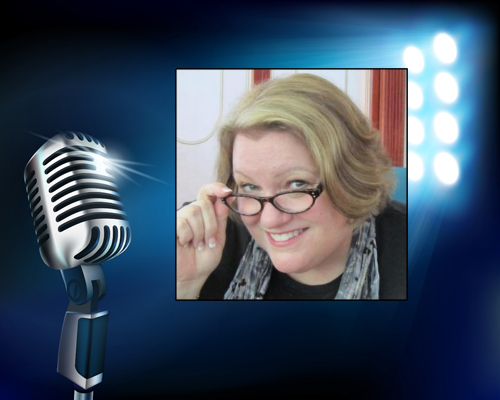 Elizabeth Scalia is a Benedictine Oblate and Editor-in-Chief of the English edition of Aleteia. She is a known by her blog The Anchoress. She is also a columnist at First Things and for The Catholic Answer. Scalia was a featured speaker at the Vatican's much-noted 2011 meeting with bloggers from around the world and has a multi-media presence that includes contributions to NPR and CBS News Online, and a stint as a regular panelist on the Brooklyn-diocese-produced current events program, In the Arena, seen at NETNY.net. She is the author of Caring for the Dying with the Help of Your Catholic Faith, was a contributor to Disorientation: How to Go to College Without Losing Your Mind, and has been involved with the editing of both religious and secular books, most notably, Why We Hate Us: American Discontent in the New Millennium.
________________________________________________________________________________
This week Elizabeth and I discuss her latest book Little Sins Mean a Lot: Kicking Our Bads Habits Before They Kick Us
.
PETE: What an eye-opener your latest Little Sins Mean A Lot is! Before we get too deep into it you point a lot of your own flaws out in this book. Two-part question. What drew you to write this book? And then after you agreed to write it How difficult was it to write?
ELIZABETH SCALIA: I have a hard time saying "no" to people I really respect and Bert Ghezzi is a man I highly respect. When he came to me with the idea for the book, I sat there horrified, listening to him and saying, "I'm the wrong person to write this book! Look at me, I'm a walking billboard for little sins that end up meaning a lot!" And he said, "that's probably why you should write it."
Did I mention, I respect him a lot?
So, I prayed about it; I decided there would be a measure of humiliation attached to the whole thing, which my soul probably needed, and went ahead with writing it.
Was it difficult? Yes and no. Everything is difficult before it's easy. I tried very hard to keep it light, but there were times when heaviness couldn't help but seep in. At those times, I basically wrote the thing out longhand, sitting before the Blessed Sacrament. The funny parts flowed with ease, because self-denigration is a cinch. The less-funny parts needed the longhand and the Blessed Sacrament.
In the end, it was easy/it was hard. And what I'm being told by people is that that describes the book, as well: it goes down easy, but it's hard. Living up to this book will be a challenge all my life, and I think I always knew that would be true, which is why I kept putting off writing it. For years.
Perhaps that's God's paradoxical way of dealing with me. I wrote it at a time when I was feeling physically more fit than I had in a while – I was losing weight and so forth, and sashaying around the house like a hotshot. By the time it published, all that weight had found me again, I was less fit, and going through one of those self-loathing periods that has me just helpless and clinging to the Cross. Our lessons come to us as we need them.
PETE: You look at 13 habits that, as the subtitle says, we need to kick before they kick us. Of the 13 which do you think are the more pressing to resolve?
ELIZABETH SCALIA: I guess I'm torn between "Self-neglect" which is one of those things that, as a kid, was communicated to me as a kind of positive-humility, and "Clinging to a narrative beyond what is useful." One kind of answers the other; the "self-neglect" narrative should have been tossed 30 years ago – it's not useful — and yet, somehow I am still trailing it. I think I'm not unusual, there. Most of us have trouble detaching from useless narratives, even after the realities have appreciably changed in our lives. And because we can't easily detach, we keep getting dragged down into them.
PETE: In my own observations it appears that society compartmentalizes sin. Places it on a shelf, and subsequently ignores it as f it is not a huge issue. How do you thing we have arrived at this sad state of affairs?
ELIZABETH SCALIA: Well, but that's just part of the brokenness of Original Sin, isn't it? From Eden onward, humans have displayed a capacity for sinning and moving on, rationalizing behaviors. I do think that in our time, in this dictatorship of relativism, it's easier to do this than ever. We have all of our gadgetry with which we can peer out into the world and decry everything that everyone else is doing, and that very conveniently keeps us from looking at our own sins, our culpabilities. A friend of mine told me he was annoyed when he got my book, because he was quite fond of his little sins and he really didn't want to have to look at them when it was so much easier to look at the world and kvetch about injustice, and social decay, and all of those terrible people over there, than to have to deal with his own interior condition. I understand his feelings.
PETE: Why is it so important to develop the thought process that the "little" sinful things we do can add up to a huge issue?
ELIZABETH SCALIA: As I demonstrate in the book, all of our "little sins" the ones we allow ourselves because "it doesn't make me a bad person" are actually kind of "gateway sins" to the seven deadly sins. Procrastination is a little sin most of us allow – but we don't think about its connection to sloth, but it is directly connected to sloth and indirectly it can also connect to anger and pride. That's what each chapter of the book does – takes a little sin, looks at it, shows where it opens us up toward engaging in (and excusing) the deadly sins, and then offers a look at what the church and the saints have to say about it all. Then it offers some practical tips for getting past the sin – or at least honestly working on it – and each chapter closes with a prayer that can be used while addressing it. I really enjoyed writing the prayers.
PETE: It's been a while since I asked you my signature ending question. This is a blog abut books. What books are currently on your bookshelf to read?
ELIZABETH SCALIA: You know, maybe it's because I'm all day reading Catholic writing, but lately I've taken to reading novels, which I had all but stopped doing; for years and years my reading has been bios and histories, but a few months ago I re-read Pride and Prejudice and thought, "My! That was lovely, to be transported beyond 21st Century Catholicland!" And so I picked up Anthony Doerr's prize winner, All the Light We Cannot See, and it was beautiful and brilliant, and then I immediately followed that with Terry Pratchett's Dodger, which was just great fun – a tasty Sherlock Holmesian/Charles Dickensian treat. Then I read Michel Houellebecq's Submission, and that unsettling bit of modern-day satire kind of chased me back into Jane Eyre – "Reader, I married him!" I just finished Gail Godwin's Unfinished Desires and Rachel's Contrition by Michelle Buckman. Those are both Catholic-themed novels, by the way, and reading them in succession makes me want to haul out Brideshead Revisited again. On my shelf right now, waiting to be read are James Martin's The Abbey
and Cardinal Wuerl's To the Martyrs
, but first I want to finish Raymond Arroyo's Mother Angelica Her Grand Silence: The Last Years and Living Legacy

, which is a very loving tribute, spiritual-son-to-spiritual-mother.
________________________________________________________________________________