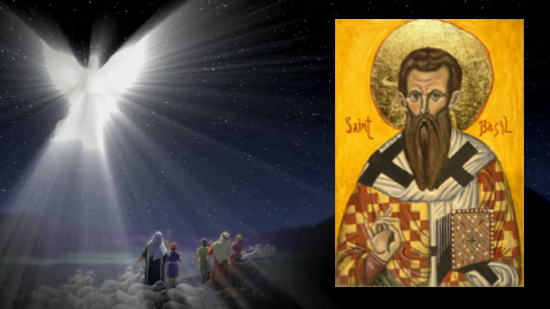 St. Basil the Great replies to those who would make the Holy Spirit something less than God. They argue that the angels are sometimes  also mentioned together with the Father and the Son; but St. Basil says that, in those cases, the angels are called as witnesses, as fellow servants under the same Lord.
Some people object that other beings mentioned along with the Father and the Son are certainly not always glorified together with them. The Apostle, for instance, in his charge to Timothy, associates the angels with them in the words, "In the presence of God and of Christ Jesus and of the elect angels I charge you" (1 Tim. 5:21). We are not for alienating the angels from the rest of creation, and yet, it is argued, we do not allow of their being counted with the Father and the Son.
To this I reply that possibly before a mild and gentle judge, and especially before One who by his leniency to those arraigned before him demonstrates the unimpeachable equity of his decisions, one might be willing to offer as witness even a fellow slave; but for a slave to be made free and called a son of God and quickened from death can only be brought about by the Lord, who has acquired natural kinship with us, and has been changed from the rank of a slave. How can we be made kin with God by one who is an alien? How can we be freed by one who is himself under the yoke of slavery? It follows that the mention of the Spirit and that of angels are not made under the same conditions. The Spirit is called on as Lord of life, and the angels as allies of their fellow slaves and faithful witnesses of the truth.
It is customary for the saints to deliver the commandments of God in the presence of witnesses, as also the Apostle himself says to Timothy, "and what you have heard from me before many witnesses entrust to faithful men who will be able to teach others also" (2 Tim. 2:2). Now he calls the angels to witness, for he knows that angels will be present with the Lord when he comes in the glory of his Father to judge the world in righteousness. –St. Basil the Great,  
On the Holy Spirit
, 13
IN GOD'S PRESENCE, CONSIDER . . .
Angels are witnesses of what I'm doing right now. Does remembering that change what I planned to do later on today?
CLOSING PRAYER
Holy angels who surround me, keep me in your sight, and keep your presence in my mind throughout the day.
_________________________________________________________________________________________
Remember to subscribe to my feed so you will not miss a day! This recurring feature at The Catholic Blogger is possible through the cooperation of author Mike Aquilina and publisher Saint Benedict Press. To get your own copy of this book, click below.