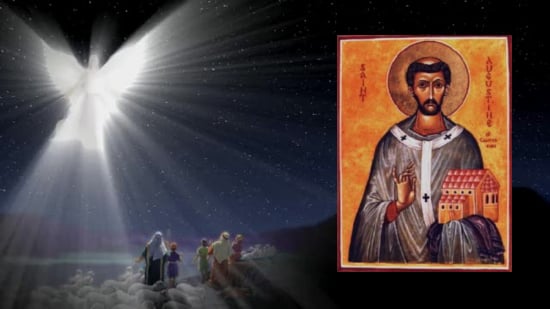 God became man, says  St. Augustine, so we could eat the food of  angels— which is truth, wisdom,  and the goodness of  God. We should give thanks at least as readily as we do when someone gives us something good to eat.
So I have said, praise the Lord, for the Lord is good; sing to his name, for he is sweet.
He is Mediator, and is sweet for that reason. What is sweeter than angels' food? How can God not be sweet, since man ate angels' food?
Human beings and angels do not live on different foods. The angels' food is truth, wisdom, and the goodness of God, but you can't enjoy it in the same way as the angels. So that man might eat angels' food, the Creator of the angels was made man. If you taste, sing praises; if you have tasted how sweet the Lord is, sing praises; if what you have tasted has a good flavor, praise it.
Are any of us so unthankful to a cook or a food vendor that we don't return thanks by praising what we taste if we're pleased with the food? If we're not silent on such occasions, how can we be silent about God, who has given us everything? –St. Augustine, Exposition on Psalm 135, 4
IN GOD'S PRESENCE, CONSIDER . . .
Am I thankful every day to God for the food of angels? For that matter, am I thank- ful every day for the food I eat, both to God and to the people who made it for me? How can I cultivate a habit of gratitude?
CLOSING PRAYER
O God, who sent forth the heavenly bread, the food of the whole world, our Lord Jesus Christ, to be a Savior, and Redeemer, and Benefactor, bless me, and lead me to join the choirs of angels in grateful praise.
---
Remember to subscribe to my feed so you will not miss a day! This recurring feature at The Catholic Blogger is possible through the cooperation of author Mike Aquilina and publisher Saint Benedict Press. To get your own copy of this book, click below.