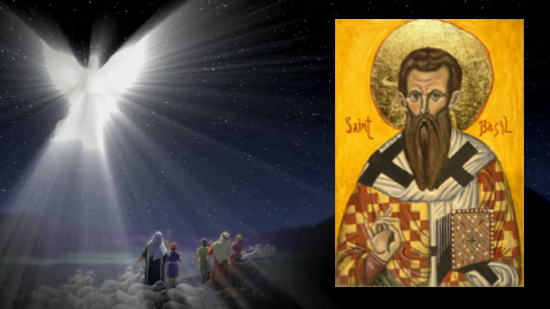 St.  Basil  shows  us  a  way to  imitate  the  angels  in  the  midst   of   our ordinary work.
Pious exercises nourish the soul with divine thoughts. What state can be more blessed than to imitate on earth the choruses of angels? To begin the day with prayer, and honor our Maker with hymns and songs? As the day brightens, to accompany our labor with prayer, and to season our work with hymns as if with salt? Soothing hymns compose the mind to a cheerful and calm state. Quiet, then, as I have said, is the first step in our sanctification; the tongue purified from the gossip of the world; the eyes unexcited by fair color or comely shape; the ear not relaxing the tone or mind by voluptuous songs, nor by that special mischief, the talk of light men and jesters. Thus the mind, saved from dissipation from without, and not through the senses thrown upon the world, falls back upon itself, and thereby ascends to the contemplation of God. –St. Basil the Great, Letters 2.2.
IN GOD'S PRESENCE, CONSIDER . . .
Do I begin my days well, with a prayer of "Morning Offering"? Do I renew that prayer often throughout the day?
CLOSING PRAYER
O Jesus, through the immaculate heart of Mary and in union with the angels, I offer you all my prayers, works, joys and sufferings of this day.
---
Remember to subscribe to my feed so you will not miss a day! This recurring feature at The Catholic Blogger is possible through the cooperation of author Mike Aquilina and publisher Saint Benedict Press. To get your own copy of this book, click below.