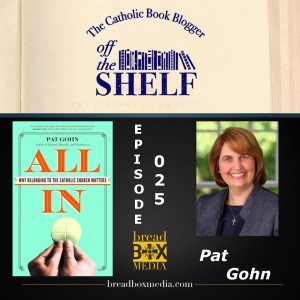 If you do not know Pat Gohn, she is a Catholic writer, retreat leader, conference speaker, catechist, and author of All In, and the award-winning book Blessed, Beautiful, and Bodacious.
Host of the Among Women podcast, she also is a frequent guest on Catholic radio and television. Her writing has appeared in a number of Catholic publications and blogs, including Catholic Digest, Catechist, CatholicMom.com, Patheos, and Amazing Catechists. Pat also has contributed to eight books in recent years, including Walk in Her Sandals: Experiencing Christ's Passion through the Eyes of Women
, The Catholic Mom's Prayer Companion: A Book of Daily Reflections (Catholicmom.com Book)
, and Word by Word: Slowing Down with the Hail Mary
. She is the editor of Catechist magazine.
Pat earned a master's degree in theology and certificates in adult faith leadership, theology of the body, and spiritual direction.  She and her husband, Bob, are empty nesters in Massachusetts. You can learn more about her work at her website
patgohn.net
On this episode Pat and I discuss her truly awesome book All In: Why Belonging to the Catholic Church Matters
. Having "skin in the game" so-to-speak really does matter when it comes to our faith. Don't bother coming to the table if you just being a poser because everyone will see through that. Listen in as Pat and I have a frank conversation about her own struggles in the faith, how she has become all in and how you can too!
You can listen to the show below or download it here.