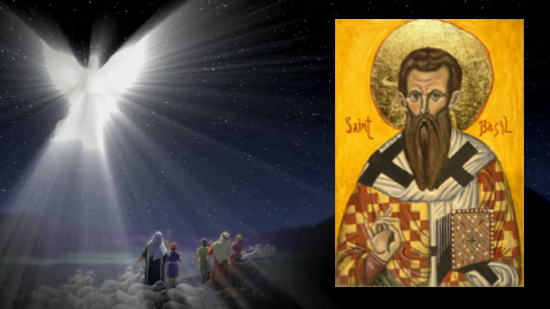 The heavenly life of praise and joy the angels live is possible only through the Holy Spirit, says St. Basil. Only with the help of the Spirit can the angels sing their hymns of praise—and the same is true for us.
How can angels sing "Glory to God in the highest" (Luke 2:14) without being empowered by the Spirit? "No one can say 'Jesus is Lord' except by the Holy Spirit," and "no one speaking by the Spirit of God ever says "Jesus be cursed!'" (1 Cor. 12:3)—as the evil and hostile spirits might say, whose fall proves what we said about the invisible powers having free will. They are always balanced between virtue and vice, and therefore need the help of the Spirit.
Even Gabriel, I tell you, foretells events to come (Luke 1:11) only by the fore- knowledge of the Spirit, because one of the gifts of the Spirit is prophecy.
And how could Thrones, Dominions, Principalities, and Powers live their blessed life, if they did not see the face of the Father who is in Heaven (Matt.
18:10)? But it is impossible to see the face of the Father without the spirit. At night, if you take the light away from the house, your eyes are blind and their powers no longer work; you cannot see what things are really worth, and in your ignorance you step on gold as though it were iron. Likewise, in the order of the intellectual world, it is impossible for the high life of reason to continue without the Spirit. –St. Basil the Great,  On the Holy Spirit, 38
IN GOD'S PRESENCE, CONSIDER . . .
When I pray to God, do I invite the Holy Spirit to help me pray, as the Spirit helps the angels praise him?
CLOSING PRAYER
Father, send your angels to watch over me, that I may be made fit for your service.
---
Remember to subscribe to my feed so you will not miss a day! This recurring feature at The Catholic Blogger is possible through the cooperation of author Mike Aquilina and publisher Saint Benedict Press. To get your own copy of this book, click below.