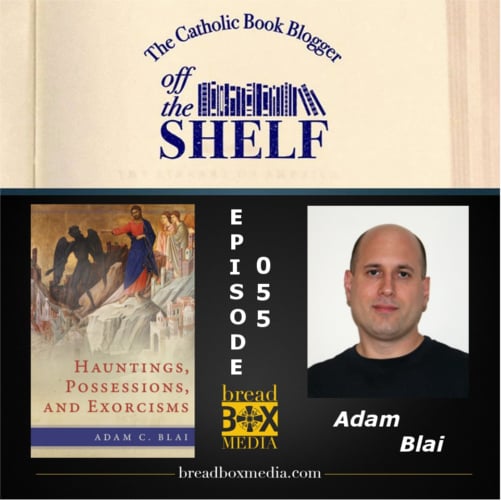 Adam Blai (pronounced "Bly") is a Church-decreed expert on religious demonology and exorcism in the Pittsburgh diocese. He is an auxiliary member of the International Association of Exorcists based in Rome. Over the past decade, he has helped educate priests regarding exorcism at national conferences, seminars, and through consultation on many cases in a number of dioceses.
He has assisted at many dozens of solemn exorcisms, house exorcisms, and resolutions of hauntings. In addition to Church cases, he reaches out to educate people on the current paranormal craze, the dangers therein, and ethical ways to resolve hauntings. He has put together a pastoral manual for priests on exorcism and resolving human spirit hauntings.
On this episode of Off the Shelf, Adam and I discuss a topic many may find scary and some will find fascinating. That topic is possession and the exorcisms that occur to free people from the bonds of the demonic that is residing in them. This isn't Ghostbusters and it's not fantasy. This is REAL and it is necessary to discuss it so that we as faithful followers of Christ know the dangers around us.  How did Adam get involved in this field and what led him to become one who teaches priests how to conduct exorcisms? What are the legalistic rules binding the spiritual world?  How serious are some of the cases he has been involved with? Has there ever been an exorcism he was involved in that made him want to walk away and never involved again? Learn this and more in this episode of Off the Shelf!
Listen to Off the Shelf Episode 055 exclusively on Breadbox Media below.
If you are fan of the show why not become  a premium member? You can be a part of our mission to bring quality content to Catholic's looking for something more than conventional Catholic media. Premium members receive exclusive discounts, deals and offers, up to 75% off select advertisers  including Rugged Rosaries, Sophia Institute Press, the Harrisburg Senators, Catholic Books Direct and others.
Become a premium member today by visiting the link on my page and I'll send you a Catholic Book Blogger Off the Shelf coffee mug as a thank you for your support of my work and Breadbox Media!