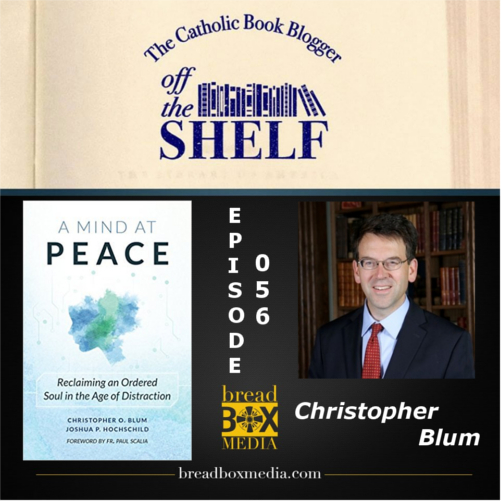 Christopher O. Blum is Professor of History & Philosophy and Academic Dean of the Augustine Institute. Dr. Christopher Blum teaches courses in philosophy and on the history of evangelization and Catholic culture. He has made a special study of the intellectual virtues as understood by the Catholic tradition, with particular reference to the moral dispositions, practices, and institutional forms that conduce to the attainment of wisdom. As a student of Catholic culture, he has published a number of translations from the French as well as essays and reviews in journals such as Logos, Modern Age, Nova et Vetera, and Pro Ecclesia. Dr. Blum and his wife Kathleen and their two children live in Littleton, Colorado.
On this episode of Off the Shelf, Christopher and I discuss the many distractions of our technologically driven world and his book A Mind at Peace: Reclaiming an Ordered Soul in the Age of Distraction
. Ever wonder why you feel so anxious at times? Have you felt as if you cannot focus on your work or that you can no longer sit and read a book like you used to do? Our sound bite, quick fix, social media-driven world might just be the problem. We need to be steadfast and not allow technology to drive us. Learn how on this episode of Off the Shelf.
Listen to Off the Shelf Episode 056 exclusively on Breadbox Media below.
If you are fan of the show why not become  a premium member? You can be a part of our mission to bring quality content to Catholic's looking for something more than conventional Catholic media. Premium members receive exclusive discounts, deals and offers, up to 75% off select advertisers  including Rugged Rosaries, Sophia Institute Press, the Harrisburg Senators, Catholic Books Direct and others.
Become a premium member
 today by visiting the link on my page and I'll send you a Catholic Book Blogger Off the Shelf coffee mug as a thank you for your support of my work and Breadbox Media!

Click below to see my Off the Shelf show archives.