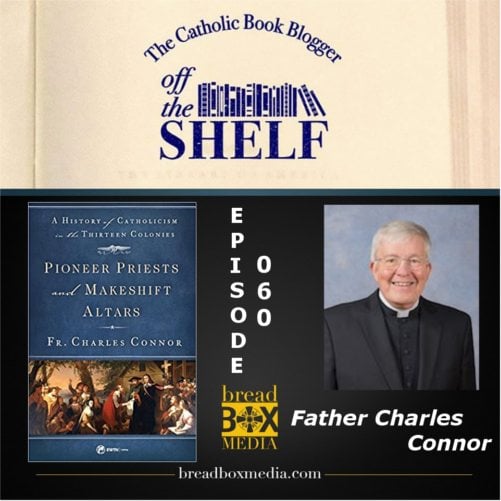 Fr. Charles P. Connor, S.T.L., Ph.D., is a professor of systemic theology and Church history at Mount St. Mary's Seminary in Emmitsburg, Maryland. He has co-produced dozens of series for EWTN and is actively engaged in preaching retreats for priests and laity throughout the United States. A priest of the Diocese of Scranton, Pennsylvania, he served in diocesan parishes for eighteen years, including as rector of St. Peter's Cathedral in Scranton. Fr. Connor holds a number of degrees from the likes of the University of Scranton, Catholic University of Louvain in Belgium, Fordham University in New York City, the Gregorian University in Rome, the Angelicum University in Rome, the Pontifical John Paul II Institute for Studies on Marriage and Family in Washington, D.C. You may also recognize him as the host of  a number of television series on EWTN.
On this episode of Off the Shelf, Father Charles and I discuss the ear;y days of the Catholic Church in the United States and his book Pioneer Priests and Makeshift Altars: A History of Catholicism in the Thirteen Colonies
. Beginning with the struggles of Catholics in England we explore what brought Catholics to the shores of the Thirteen Colonies. How did Catholics end up choosing Maryland as the first place they called home? What caused them to pick up stakes and move north across what would be later known as the Mason Dixon line? We also explore the role of the Conewago Chapel in spreading the faith  throughout the fledgling nation.
Listen to Off the Shelf Episode 060 exclusively on Breadbox Media below.
If you are fan of the show why not become  a premium member? You can be a part of our mission to bring quality content to Catholic's looking for something more than conventional Catholic media. Premium members receive exclusive discounts, deals and offers, up to 75% off select advertisers  including Rugged Rosaries, Sophia Institute Press, the Harrisburg Senators, Catholic Books Direct and others.
Become a premium member today by visiting the link on my page and I'll send you a Catholic Book Blogger Off the Shelf coffee mug as a thank you for your support of my work and Breadbox Media!

Click below to see my Off the Shelf show archives.