By Sandy Mercer 
I support the DREAM (Development, Relief and Education for Alien Minors) Act.
"Under the 2017 Dream Act, immigrants would qualify for permanent residence and a path to citizenship if they are longtime residents who came to the United States as children; earn a high school diploma or GED; pursue higher education, have lawful employment for three years or serve in the military; pass a background check and pay a fee; show proficiency in English and U.S. history; and have not committed a felony nor posed a threat to the country." (thehill.com, 7/19/17)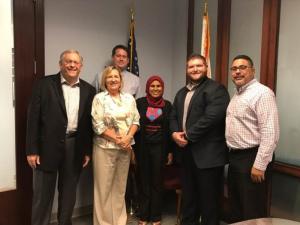 This is an urgent matter because it has recently been reported that President Trump is considering putting an end to the Deferred Action for Childhood Arrivals (DACA) — which has helped approximately 800,000 immigrant young people obtain work permits, get driver's licenses, attend college, and serve in the military while Congress considers immigration legislation including the DREAM Act. (cnn.com, 8/25/17) As a result, my husband and I recently joined other people of faith to speak with Senator Marco Rubio's Regional Director about our support for DACA and the DREAM Act.
I am a teacher. I know what happens when young people do not have hope. DACA and the possibility of the DREAM Act have given approximately 800,000 DREAMers, as they are called, hope. These young people, who call America their home, have come out of the shadows, passed an extensive background check, paid a fee, graduated from high school, gone to college, or served in the military. Some of these DREAMers are my students. They and their families are my friends. They are our neighbors.
My support for DACA and the DREAM Act is not a point of view on an "issue" for which I may change my mind or lose interest. I have been on the phone and texting with students as they have heard the ominous reports that President Trump may end DACA. My support is for young people I love. This is about my neighbors.
"And just how would you define 'neighbor'?" Luke 10:29 (The Message)
Jesus answered this question by telling a story.
I want to answer the question the reader may have, "Why should I support DACA and the DREAM Act?" with a story, the story I know, Maria's story.
Maria was my student. Before I knew Maria was undocumented, I knew Maria. I knew her character, her personality, her faith, her work ethic, her dreams, her friends, and I knew how much she loved her family.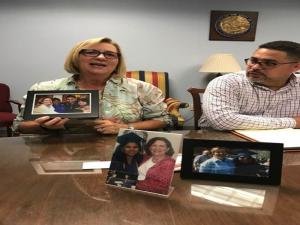 My understanding of Maria's legal status gradually dawned on me. Her life and story unfolded slowly as our friendship developed. I learned that Maria lived as a child in El Salvador with her grandmother. Over time I began to hear pieces of her mother's story as well. I learned the facts of their lives the way friends become acquainted through the sharing of anecdotes in conversations.
Maria's story was jarring to me — totally outside my experience. I have lived a stable, middle-class American life. I cannot imagine the desperation of being unable to provide food for my child, which is what led Maria's mother to leave El Salvador when the coffee fields where she worked were burned by guerillas. What I can imagine is doing whatever I had to do for either of my daughters if they were starving or in danger. I can also imagine doing whatever I could do to reunite with my children if we were separated.
Through my relationship with Maria and other students, I also grew in my understanding of issues many unskilled immigrants face. One of these issues is that often one member of the family has permission to work in the U. S. This family member usually performs difficult, unskilled labor and pays taxes. However, an unskilled worker is not easily and legally able to bring other members of his or her family to the U. S. to be with the worker.
I became involved in working for the DREAM Act when Maria faced deportation and was afraid of returning to El Salvador because of the violence there. My theological support for my actions was that Jesus called me to love my neighbor, and Maria was my neighbor. Then I read Daniel Carroll's book, Christians at the Border: Immigration, the Church, and the Bible and Matthew Soerens' and Jenny Hwang's book, Welcoming the Stranger: Justice, Compassion & Truth in the Immigration Debate. I realized there was a theological richness to this discussion based on the Old Testament "law and the alien, stranger, sojourner or foreigner" and the New Testament "welcoming the stranger."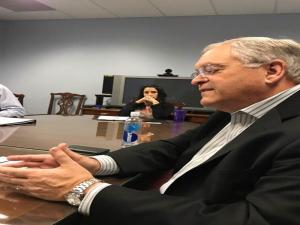 In our legal system we allow for prosecutorial discretion and recognize mitigating circumstances. DREAMers came to this country as children. We do not prosecute children. America is their home. They have graduated from high school.  Many have graduated from college or serve in our military. They work, pay taxes, and contribute to their communities. We, Christians, have a responsibility to evaluate laws from our understanding of God's standards as set forth in the Bible. William Wilberforce, a Christian and political leader in the movement to abolish slave trade in the 1800s in Great Britain, and Righteous Gentiles, who risked their lives to save Jews during the Holocaust, are the standard-bearers in this vein.
What then should be a Christian's response? Regardless of her status, Maria is my neighbor. I love her with everything the word love implies for me as a Christian.
I accept that thoughtful Christians may disagree on public policy, and I certainly acknowledge my limitations in comprehensive immigration reform discussions. Yet, on this one point I would challenge my fellow believers: All people (documented and undocumented alike) are created in the image of God. They are our neighbors. Jesus modeled loving his neighbors, and he challenged all his followers to love our neighbors just as he expected us to love ourselves. It is my hope that we Christians will become informed about immigration issues and immigrants' needs in our communities and seek to explore this issue using Jesus as our guide. I pray that as we discuss this complicated issue we will remember we represent Jesus and that when we speak on either side of this issue, our "attitude will be the same as Christ Jesus." (Phil. 2:5)
Our neighbors need our help. I hope you will join me in urging President Trump to retain DACA until there is a legislative solution for these 800,000 young people and call your congressmen and congresswomen to tell them that you support the passage of the DREAM Act.
Sandy Mercer is a public school teacher, a pastor's spouse, mother and grandmother. She was a founding member of the Shenandoah Valley Scholars Latino Initiative, a mentorship/scholarship program to help Latino students attend college. She and her husband, Jack, live in Orlando, Fla.