By Terrell Carter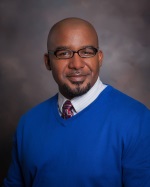 Have you ever been mistaken for someone else?
This happens to me on a regular basis for a few reasons. I have an identical twin brother. We look, sound, and act alike. About 10 years ago, we worked three blocks from each other in downtown St. Louis and on a weekly basis, someone would inevitably mistake my brother for me while he was at lunch.
In addition to that, I share the same name as a famous singer and actor who regularly appears on television and on stage. When people "Google" his name, they find me and my contact information. I have received multiple emails and phone calls over the years that were intended for the "other" Terrell Carter.
More recently, I've been mistaken for the wrong kind of Baptist. When people ask me what I do professionally, and I tell them that I'm a professor at a Baptist seminary and a Baptist pastor. Inevitably, some of them experience an immediate change of attitude towards me and I must qualify my statement by saying, "I'm not that kind of Baptist pastor or professor…." so they won't mistake me for someone whose beliefs I don't agree with.
A couple of weeks ago, a pastor friend of mine from St. Louis responded to a call for clergy to travel to Charlottesville, Va., in response to white supremacists gathering in that city to halt the pending removal of Confederate monuments. My friend said that on the first day he saw a group of police officers coming towards him in full riot gear with helmets, long rifles, and other weapons. He was glad to see them coming to help provide crowd control.
Unfortunately, as this group continued to approach, his heart dropped because he realized that he was mistaken. Although the approaching group had matching uniforms and even matching weapons, they weren't police. They were the white supremacist militia. They were there to protect and protest the removal of the Confederate monuments. They were there because they were trying to protect what they considered sacred monuments.
This idea of mistaken identity is important to me for more reasons than the fact that I have a twin brother or share the same name with a famous person.
I don't want to be mistaken as a particular kind of Baptist because, truthfully, those kinds of Baptists have become known less for protecting the Gospel or the practices of Jesus, and instead are known for protecting social and political monuments. Social and political monuments that, upon further examination, many would understand go against the Gospel and teachings of Jesus. I don't have to name these Baptists or their monuments. I'm pretty sure we are all familiar with them.
But, as I begin to cast stones at those other Baptists, I must pause and ask myself am I any better than them? Are there any monuments in my life that I protect?
While I am protesting and pointing out the sins of other people as they try to protect their sacred monuments, I should recognize that I may have the tendency to do the same things they do, just for other monuments. If we all would be honest and think deeply, we could each identify monuments in our lives, as well. We all hold on to some things that, if someone challenged them, we would likely respond in ways that would cause us not to be mistaken for children of the king.
So, what are the monuments in our lives that, when they are challenged, cause us to no longer exemplify the best of our spiritual model, Jesus? After identifying them, may we turn them over to God for removal from our lives so that nothing would cause us to not reflect the love, character, and grace of our Creator.
Terrell Carter, D.Min., is assistant professor and director of contextualized learning at Central Seminary in Shawnee, Kan., and pastor of Webster Groves Baptist Church in Webster Groves, Mo.
Note: The views expressed here in columns and commentaries are solely those of the authors.
Interested in writing for CBF at Patheos? Submit your column idea to CBF Communications Director Aaron Weaver at aweaver@cbf.net.