By Sue Smith
"If DACA ends, life as I know it will end, too. I won't be able to drive anymore because I'll lose my license. And I won't be able to work . . . I don't know what I'll do!"
Christian,* age 19, is a full-time second-year community college student who is studying Computer Science. He lives at home with his parents and three younger sisters (who are US citizens) and works five days a week to pay for his school expenses. He's thinking ahead and plans to transfer to a four-year university once he earns his Associate Degree.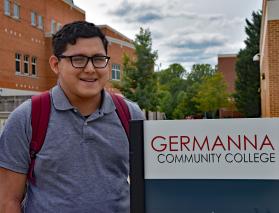 We first met Christian when he was 7 and in the second grade. He participated in our after-school program, Study Buddies, and he became a volunteer during middle and high school, tutoring elementary-aged students from immigrant families. Christian was a natural tutor and role model for the kids, with his calm, quiet manner and ability to explain homework assignments to them in either Spanish or English.
For Christian, losing DACA means he will lose his work permit and thus his job, which means he will no longer be able to afford to pay for his college classes. Like most DACA students, he has no student loans and must pay school costs out-of-pocket or on a semester payment plan. He will also lose his drivers' license, which will impact his ability to get to and from class or work — and his ability to help his parents with transportation. Christian and his dad commute to work in the same restaurant approximately 45 miles away from their home.
Without DACA, this young man who has lived in the U.S. since age three will revert to status as an undocumented immigrant, working at unskilled labor jobs for cash, and his education will come to an end without the ability to pay for tuition, books, and materials.
Though all the paperwork has been submitted, Christian's DACA has not yet been approved for renewal, and he can't rest easy until he has the renewal in hand.
---
José* is 21 and a college student. He lives at home and works a night job in a call center, which allows him to take classes during the day at the university. He's lived in the U.S. since second grade.
DACA had a huge impact in Jose's life. As a middle-schooler, his family moved to a new home and he became aware that he was an undocumented immigrant. He was bullied and called "the Mexican kid" at his new, mostly-white school — even though he repeatedly explained that he was not from Mexico. He most likely had ADHD but no services were provided, and he struggled in school, even though he was very bright. Outgoing and friendly, José made friends quickly at Passport Missions camp and loved helping others, but he was also known for his impulsiveness and jokes.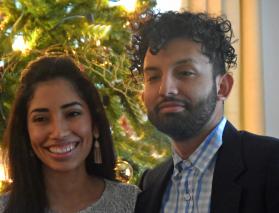 José gave up hope. "What difference does it make if I do well in school?" he said. "I'll still be an illegal immigrant — just look at my parents!" His dad, a university professor in his home country, worked in the kitchen of restaurants in the U.S., and his mom, an accountant, was stocking shelves in a small retail store. But then, José's sister earned an academic scholarship to a four-year private college, and he saw that her hard work really had paid off. Soon afterward, DACA came along, which meant that college would be a possibility for him, too.
José suddenly had hope, hope for the life his parents had sacrificed so much for him to have. But it was dependent on him to do his part, to learn responsibility. He quit skipping school, began to focus on his classes, and sought help for areas where he was struggling. He became a good student, and he found new friends. When he was approved for DACA, he was able to get his drivers' license and obtain a part-time job to save money for a car and for college.
More than the loss of his good job, car and drivers' license, or ability to study, the loss of DACA for José means he loses hope. José saw what he could do with his life if he just put forth an effort, but without DACA, he'll go back to what he once dreaded being, just another "illegal immigrant."
---
When Yerendi,* age 22, received school supplies from LUCHA Ministries in the third grade, she grabbed the bag and danced around the room before sitting down to sort and organize her backpack for the first day of school. "I love school," she said. "Summer is so boring, and I can't wait to get back! One day, maybe I'll be a teacher. Or maybe a doctor. Or maybe . . . something else!"
It's no surprise that Yerendi took charge of her DACA application once she was old enough to apply. She soon had a job, a car, and was looking forward to college. She was able to pay for her own clothes and help her parents out with expenses — plus becoming the family's "taxi" as she took her younger siblings to activities and her parents to appointments. Her dad, a self-employed mechanic with a third-grade education, bought and refurbished a car for her.
Yerendi began working for a physician's office part-time, primarily getting the job because she had served as a volunteer interpreter for one of the physician's Spanish-speaking patients. The job turned into full-time position, and she had to make a decision about school. She opted to work full-time and study part-time. In the meantime, the practice became part of a university system, and now she qualifies for significant tuition assistance as an employee of the university. Plus, she determined she liked the medical field and has a heart for interpretation.
For Yerendi, the United States is truly her home. While she was born in Central America, she's lived here since she was 6 months old, and her brother is in the US Marine Corps. "My parents will eventually be okay. My siblings are U.S. citizens and can petition for my parents. It's me — I'm the only one left out." What will the loss of DACA mean to Yerendi? "I honestly don't know," she said. "For now, I'll keep on working and studying. I have time to figure out what my next steps will be."
---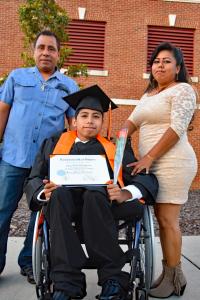 Carlos graduated from high school last spring and turned 18 over the summer. He's been in the U.S. since he was 2 years old. Carlos was born with spina bifida, a birth defect affecting the spine. Carlos has a severe form of spina bifida and has no use of his body below his waist. He will spend his life in a wheelchair.
When his parents learned that there was nothing that could be done for Carlos through the hospitals in his country, they made the decision to come to the U.S. They simply couldn't accept the grim prognosis that he would soon die. Almost as bad were the heartbreaking thoughts of the bleak existence that he would face as a person with disabilities in his home country if he survived. Carlos' dad came to the U.S. to find a job and a place to live, and Carlos and his mom followed later.
In the U.S., they found help for Carlos in the form of charity care, free clinics, and a program through the National Children's Hospital in Washington, D.C. He received needed surgeries and medical care, and was soon able to use a wheelchair and go to school. Carlos' mom has dedicated her life to caring for him and serving as his advocate, while his dad has ensured that there was somehow enough money to keep a roof over their heads, food on the table, and a somewhat reliable vehicle large enough to accommodate Carlos' wheelchair. They've paid many of the costs associated with Carlos' care out of pocket, with no form of health insurance.
Once Carlos has one final necessary surgery this fall, he can move forward with his life. With DACA, he can work or continue his studies, normal everyday things that would be much more difficult for him as a person with disabilities in Mexico.
---
Sue Smith is a CBF field personnel serving in Fredericksburg, Va., through LUCHA Ministries.