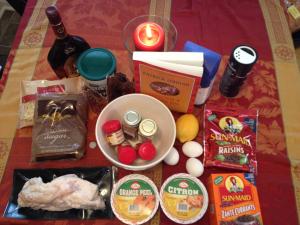 The Christmas pudding is the crown of the Christmas feast. It has no equal. Before the pudding, the beef bows and the turkey trembles. Even a robust cabernet may hesitate before taking the pudding in its warm embrace, though their kiss is the signal for fireworks, joy, and mayhem.
I made my first Christmas pudding six years ago, and I have made one every year since. The pudding ripening in my basement right now is one I made last year, to test a theory (more on that later). It's a lot of work and patience. Why do I do it? Because a Christmas turkey is princely, and a rare roast beef even more so. The wine is like dew from heaven, and Christmas tarts and chocolates and eggnog are the embers against cold midwinter. But a pudding rises above them all.
A proper pudding needs to ripen for at least three weeks after the initial steaming, and Christmas is six weeks from when I write this, so you have some time. But don't delay because you may need to order a couple of things.
You could wait until New Year's Day (as I did once) or Epiphany, but a Christmas pudding should be served on Christmas day, when you "might hear the pudding singing in the copper," to quote Dickens, and see it carried majestically to the table.
"…the pudding," Dickens continued, "like a speckled cannon-ball, so hard and firm, blazing in half of half-a-quartern of ignited brandy, and bedight with Christmas holly stuck into the top."
Intrigued?
At the bare minimum, a pudding should be made three weeks ahead of time. But traditionally, they are made on the last Sunday of the liturgical year: the Feast of Christ the King in the 1970 calendar, or "stir-up Sunday" in the old calendar (after the first words of the Introit: "Excita, quaesumus, Domine…"—"Stir up, we beseech thee, O Lord…").
It is entirely appropriate that Pudding Day is a liturgical pun.
Recipes and equipment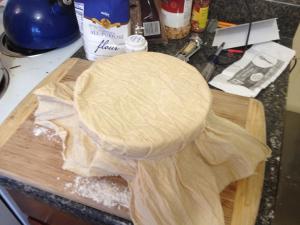 How to make a Christmas pudding? I use the recipe on pages 35-36 of Lobscouse & Spotted Dog, by Anne Chotzinoff Grossman and Lisa Grossman Thomas. It is a cookbook inspired by Patrick O'Brien's Aubrey/Maturin novels.
If you don't have that, a Google search will yield dozens of traditional pudding recipes. Be careful with recipes for plum pudding or figgy pudding. They are not quite the same. Ingredients such as fruits or spices may vary, but the absolutely necessary ingredient that all recipes agree on is grated beef suet. One recipe I saw said you may substitute vegetarian suet. If you see that, hit the back arrow immediately and find another recipe. Also necessary is brandy or cherry, both as an ingredient and as a preservative.
I strongly recommend the recipe in the Grossman &Thomas book, however, the ingredients and instructions were published online in 2011.
For equipment: a proper pudding mold or basin is indispensable. Unless you live near a store that stocks specialty items, you'll need to order one online. It will need to be sturdy, preferably ceramic, to withstand five or more hours of steaming in a pot. A six-cup basin, which I use, measures about seven inches across the top, three inches across the bottom, and is four inches deep. You'll also need a pudding cloth—a square kitchen towel is fine for this—and sturdy kitchen twine, to tie off the cloth during the boil.
Making the pudding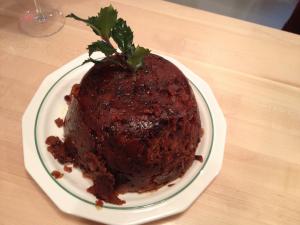 You'll want to set aside the entire Sunday. Mixing the ingredients can take a while, especially for beginners. Be sure to use a large bowl—you won't need the pudding basin until later. The Grossman & Thomas recipe calls for lemon zest. If you use that recipe or if the one you use calls for that, do not overdo it: it will overpower everything else and you'll end up with a giant lemon ball, not Dickens' "speckled cannon-ball." Also, freshlemon zest only.
Take your time, don't rush. Add the ingredients in the proper measurements and in the proper order. You do not want to get this wrong. Another tip: frozen suet is easier to work with. Also, play Christmas music. Open a bottle of wine. Making the pudding is as much a celebration as eating it. One English tradition is to have each member of the family take a turn stirring the pudding. Another is to mix a small coin into it—and if you can get your hands on an English sixpence, all the better. Whoever finds the sixpence when the pudding is served on Christmas will have good luck all year.
Grease your pudding basin with butter or suet and transfer the entire mixture into the basin. Secure the cloth tightly with the kitchen twine. Lift the corners of the cloth and tie time together—to cloth lift the basin out at the end of the boil.
Place the pudding in a large pot of already-boiling water. It should be a rolling boil. The water level should come up to within an inch of the top of the basin, so don't overfill the pot. You will need a kettle of boiling water standing by to periodically replenish the water in the pot. And open the windows. No matter how cold it is outside, the kitchen will remain warm.
Take a seat, pour some more wine, and relax. You are going to boil the pudding for five hours, minimum. Maybe for six hours. This is a Christmas pudding; you don't want to skimp.
At the end of the boil, remove the pudding basin from the pot and remove the pudding cloth. After it cools, cover it with a generous blanket of brandy, seal it tightly (I use plastic wrap and aluminum foil) and store it in a cool place until Christmas Day.
On Christmas, uncover the pudding. Cover it again with a cloth and string, and boil it for another two hours, using the same methods as before. That completed, you may now unmold the pudding onto a plate, stick a sprig of holly on the top, and serve flaming. For the full effect, dim the lights when you bring it to the table. Grossman &Thomas recommend: "Warm a quarter-cup of brandy in a small saucepan, pour it over the pudding, set it alight, and serve it forth accompanied by Hard Sauce."
Hard Sauce is made from butter, superfine sugar, and brandy. Serve no pudding without it. If you were hoping to lose weight, you've come to the wrong place.
Good luck
I realize that it may be too late to attempt this, especially if you have to wait for a mail-order pudding basin (they can be hard to come by this time of year). According to Grossman &Thomas, a well-brandied pudding will keep for a year or more, so long as it's bundled up tight and stored in a cool spot. I'll find out when I open last year's pudding.
And there you have it: the majestic Christmas pudding. It will immerse you in the moment and yet take you across time: "…the plum pudding remains the same, century after century," G.K. Chesterton wrote in 1906, "…a permanent monument of human mysticism and human mirth."