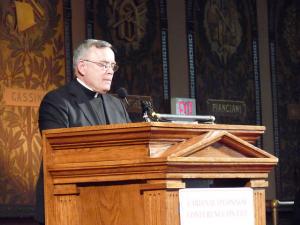 I'll give Philadelphia Archbishop Charles Chaput one thing: he knows how to cover his tracks. He knows how to sound above the fray, impartial, when pushing a right-wing agenda. Advising his flock in August, 2016, on how to vote in that fall's election in a way consistent with their Catholic faith, he wrote:
For Catholics, no political or social issue stands in isolation. But neither are all pressing issues equal in foundational importance or gravity. The right to life undergirds all other rights and all genuine social progress. It cannot be set aside or contextualized in the name of other "rights" or priorities without prostituting the whole idea of human dignity.
As I like to say, nothing matters before the "but." This passage sounds benign at first. It is true that "no political or social issue stands in isolation." But then Archbishop Chaput pulls his bait-and-switch: "The right to life undergirds all other rights and all genuine social progress."
The subtext was clear: vote Republican; for Donald Trump. Or at the very least, do not vote for Hillary Clinton, who, Archbishop Chaput wrote earlier in that piece, "should be under criminal indictment."
Pulling the same trick
Archbishop Chaput pulled the same trick last week in a speech delivered to the Alliance Defending Freedom Summit on Religious Liberty. Again, he promoted right-wing politics under the guise of impartiality. But don't take my word for it. The Catholic News Agency, perhaps inadvertently, thought so too, writing in their lede:
Christians are called to win the battle of ideas and values in secular society, Philadelphia Archbishop Charles Chaput said Tuesday.
Indeed, using a term first introduced into America's political vocabulary by Pat Buchanan in his speech to the 1992 Republican National Convention, Archbishop Chaput defended conservative Catholics against the accusation that they engage in culture war. "We are fighting for what we believe," he said, "But of course, so are advocates on the other side of all these issues. They too are 'culture warriors.'" (Emphasis in the original.)
That by "fighting for what we believe," Archbishop Chaput means fighting for our place in an earthly kingdom—an earthly kingdom governed by a Republican agenda—and not how to more thoroughly live and be the Gospel in society, is clear in the context of the entire speech.
Religious freedom
The speech is titled, "Building a Culture of Religious Freedom." The term "religious freedom" appears about a half-dozen times. Archbishop Chaput never defines "religious freedom," but speaking to a friendly audience, he probably felt he didn't need to.
"Religious freedom" became a rallying cry of conservative Catholics during the Obama years who objected to the contraceptive mandate, a regulation enacted in conjunction with the Affordable Care Act that required contraception to be added to the list of preventative services provided by the ACA.
It's also a rallying cry for religious conservatives, Catholic and Protestant, who support bakers, photographers, etc., who refuse to provide their services for gay marriages.
While, on the surface, "religious freedom" sounds like a perfectly legitimate ideal—preserving the First Amendment rights of believers—as applied by Catholic and Protestant conservatives, what it really means "my rights, but not your rights."
Archbishop Chaput askes, "How can we build a culture of religious freedom?" But without defining it, he's speaking in a vacuum—and a partisan vacuum. He gives himself some cover by saying the United States "is not our final home." But his partisan intent comes clear when he continues:
The eagerness of Catholics to push their way into our country's mainstream over the past half century, and to climb the ladder of social and economic success, has done very little to Christianize American culture. But it's done a great deal to bleach out the zeal and faith of everyday Catholics, and to weaken the power of any distinctive Catholic witness. Joe Biden's recent reversal on the Hyde Amendment may frustrate or anger us. But it shouldn't surprise us.
So he deplores Mr. Biden's support for federal funding of abortion, but makes no mention at all of President Trump, no mention at all of Mr. Trump's concentration camps where children are tortured and sexually abused, no mention at all of Mr. Trump's pagan worship of power for its own sake, no mention at all of how Trump tramples the rights and dignity of the poor, the immigrant, the most marginalized of our society.
Same old, same old
Remember, Archbishop Chaput is the guy who in 2016 tricked Catholics into voting for Mr. Trump with false equivalency lies. He wrote:
One candidate—in the view of a lot of people—is an eccentric businessman of defective ethics whose bombast and buffoonery make him inconceivable as president. And the other—in the view of a lot of people—should be under criminal indictment. The fact that she's not—again, in the view of a lot of people—proves Orwell's Animal Farm principle that "all animals are equal, but some are more equal than others."
Archbishop Chaput exonerates Mr. Trump by saying what everybody at the time already knew about him. Ms. Clinton, on the other hand, should be under criminal indictment "in the view of a lot of people."
Catty much, your excellency? But conservative Catholics never fret too much over the 8th Commandment. Never mind that, though Ms. Clinton probably is the most investigated politician in American history, no one, not even Republicans, have found anything to indict her for.
Then, Archbishop Chaput as much as calls Ms. Clinton an animal.
We are called to be leaven
Archbishop Chaput is, well, an archbishop. And I'm just me. But I'd like to say something. No, your excellency, Christians are not called to fight secular culture wars, no matter how much we tell ourselves we are fighting for what we believe. We are not called to win the battle of ideas.
We are called to be leaven in society, transforming it from within by obeying Christ's commandment to "love your neighbor as yourself," and living the Beatitudes and the rest of the Sermon on the Mount. By reducing a full life in Christ to a political slogan—"We are fighting for what we believe"—you reduce the Faith to an ideology, one ideology among many, fighting for dominance.
Many outside the conservative Christian bubble view that brand of Christianity as a perverse, twisted version of the religion of the Gospels. I say it does not even rise to that. It's pagan idolatry with a nod every now and then to someone named Jesus who may have said something once about foot hygiene.
And this is what Charles Chaput—a Catholic archbishop—is peddling.
(Image licensed by Flickr. -spd)