Thursday night, Stephen Colbert sat down with CNN's Anderson Cooper for an hour-long discussion (it was billed as an interview, but it was more of a two-way discussion). Here's the full interview:
Punishment and Gift
The talked about a lot of things: The Late Show with Stephen Colbert, Donald Trump, Mr. Colbert's favorite author, J.R.R. Tolkien. But what got people's attention, what everyone was talking about Friday morning, was when the conversation turned to grief and loss, specifically, the deaths of Mr. Colbert's father and two older brothers in a plane crash when he was ten. Mr Cooper asked Mr. Colbert about something he said once, about, "learning to 'love the thing that I most wish had not happened.'" Choking back tears, he then said:
You went on to say, "What punishments of God are not gifts?" Do you really believe that?"
Mr. Colbert replied, after a short pause:
Yes. It's a gift to exist and with existence comes suffering. There's no escaping that.

What do you get from loss? You get awareness of other people's loss, which allows you to connect with that other person, which allows you to love more deeply and to understand what it's like to be a human being if it's true that all humans suffer.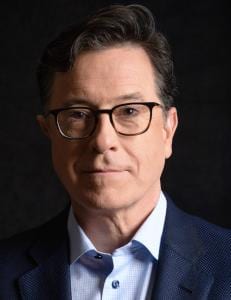 I apologize if I presume too much. But I think Mr. Cooper had never before encountered an authentic Catholic talking about grief, suffering, loss, in an authentically Catholic way: that grief, properly understood, leads us to empathy and to deeper love for others.
It was very beautiful. All the people Mr. Cooper has interviewed, all the stories he's heard—I've never seen him break down like that. And then Mr. Cooper opened up about his own losses: his brother's suicide, his mother's death, while Mr. Colbert listened. It was simply astonishing.
Sometimes, when things seem darkest (and I know it can get a lot darker), we get these gleams of light. First, that Stephen Colbert can speak so openly about his Catholic faith in a way that utterly rejects anti-Gospel, culture war Catholicism. And second, that Anderson Cooper is willing to give him an hour in prime time to do so.
Think how we could set the whole world on fire, if more Catholics were like Stephen Colbert, and all of us were more like Anderson Cooper.
(Image author: Montclair Film; source: Flicker)