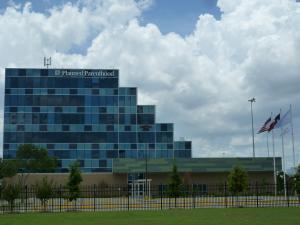 What follows is neither an endorsement nor a condemnation of Planned Parenthood. That's not the issue here.
The issue is how Planned Parenthood is covered in Catholic journalism. I expect better. Everyone should, whatever you think of Planned Parenthood.
I was scrolling through my Facebook feed when I saw this piece in The Pilot, the newspaper of the Archdiocese of Boston: A model of despair: Planned Parenthood and Title X, by Matt Hadro. The dateline says it's from the Catholic News Agency, a news service owned by EWTN.
Title X of the Public Health Service Act dates to 1970. Its purpose is to provide family planning grants to clinics to provide contraceptives and related information to low-income patients.
According to NPR, Planned Parenthood has been part of the $286 million federal program since the beginning, and serves about 40 percent of America's 4 million Title X recipients, who also receive STD screenings.
But a new Trump administration rule issued this year forbids Title X grantees from referring patients for abortions except in cases of rape, incest, or medical emergency, and forbids them from offering abortion services under the same roof as their other services.
The CNA article
That should be enough background to go on with. Mr. Hadro's opening paragraph runs:
Planned Parenthood's decision to forgo tens of millions of dollars per year in Title X grants simply reinforces its commitment to abortion, say those familiar with the organization's operations.
The reader will be forgiven for thinking "those familiar with the organization's operations" means Planned Parenthood employees. It does not. Mr. Hadro quotes no actual, current Planned Parenthood employees or official spokespeople.
Instead, Mr. Hadro quotes a former Title X training manager, who says:
"That's the whole point of their organization—for people to be sexually active and to use the contraception that they provide, and then, of course, to refer for abortions when that contraception fails."
Then he gives us a "scholar" at an anti-abortion think tank:
The withdrawal from the Title X program is "really about, bottom-line, funding their abortion business," said Jeanneane Maxon, associate scholar at the pro-life Charlotte Lozier Institute. "Because that's where the big bucks are."
But those two are just the lead-in to America's most famous ex-Planned Parenthood employee, Abby Johnson. Ms. Johnson's autobiography Unplanned was recently made into a movie. Mr. Hadro identifies Ms. Johnson as "a former Planned 'Employee of the Year'" and takes at face value Ms. Johnson's disparagement of Title X itself:
"However, this program is honestly junk. It's a contraceptive management program that is primarily used for undocumented immigrants and for teens and preteens to obtain birth control without their parent's consent," Johnson, the founder of the ministry And Then There Were None, said of Title X.
What Mr. Hadro fails to mention is that Ms. Johnson has some serious credibility issues, as reported not just in Texas Monthly, but also in Salon. And, she seems to be cozy with white nationalists.
How to be a reporter
A few minutes on Google would have been enough for Mr. Hadro to dig down on Ms. Johnson, as it was for me.
Or, he could have gone really old school and asked her and the rest some follow-up questions. Such as asking Monica Cline, the former Title X training manager, "Ms. Cline, do you have any hard data or documentation showing that Planned Parenthood's real goal is to funnel patients from the birth control side of the house to the abortion side of the house?"
Or, "Ms. Maxon, what, in your research, demonstrates your allegation of a connection between Title X and Planned Parenthood funding its abortion business?"
Or, "Ms. Johnson, as a former Planned Parenthood employee, what documentation can you provide showing that Planned Parenthood's real goal is to undermine parental authority? And what about these reports in Texas Monthly?"
The rest of the story is more of the same: one biased source after another, none of whom work for Planned Parenthood.
Catholic journalism
Here's the thing. When I was a reporter, turning in a story like this would have merited a complete rewrite—to say nothing of a serious ass-chewing from an editor. This just was not done.
But that Mr. Hadro wrote what essentially is propaganda disguised as news, and that it got by an editor, and maybe a copy editor, at least, and maybe had a third read before being posted to the Web—and then was picked up by The Pilot and God knows how many other diocesan newspapers—simply astonishes me.
I emailed CNA with questions for Mr. Hadro. He had not responded by the time I published this.
Should I be upset at the pro-life movement? No. The pro-life movement, or what's left of it after its complete abasement before President Trump, lives in an increasingly small bubble, outside of which it is increasingly despised. Why bother?
What really upsets me is what Mr. Hadro's piece says about the sorry, deplorable state of Catholic journalism.
I don't care how much you hate Planned Parenthood. It deserves every bit the objective, fair coverage that you would give any other newsworthy subject. This especially holds in Catholic journalism, whose reporters and editors purport to worship a God who said, "I am the way, the truth, and the life."
The truth.
Because with stories like this, it's not Planned Parenthood who loses credibility. It's Catholic journalism, and the Catholic News Agency. Do better.
(image in the public domain)