As the days become shorter and the nights longer, grief emerges. With all of the talk of our Beloved Dead and the Ancestors, I am reminded of those who have gone before me. Family. Friends. Dear ones.
Grief is the feeling of loss, potent and tangible. The absence of their touch, their voice, their presence becomes thicker. As circles are cast and images of veils becoming thinner are all around, I want to reach out and remember. I want to celebrate through tears and memories.
When I lost my mom, I realized the depths of grief. I realized that the words I would speak during ritual were more than just words, they were cries out, cries into the places I have only talked about circumspectly. While I knew that loss would touch me, grief became ritual. A ritual of remembering.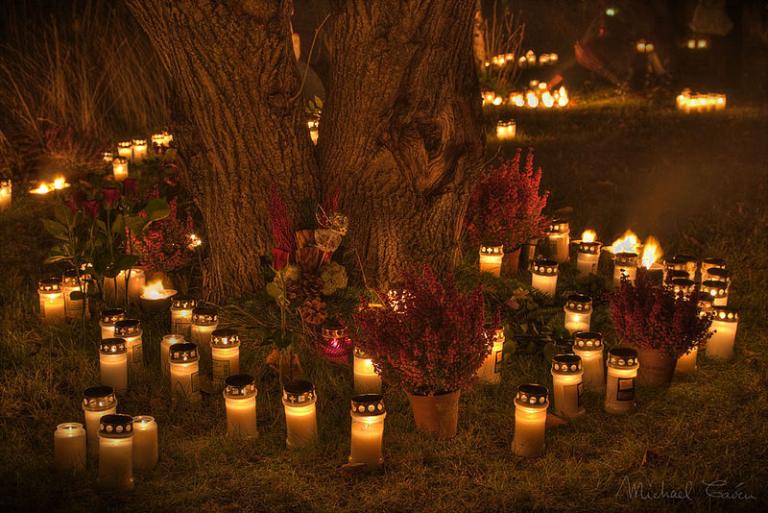 What is Remembered, Lives
I have new rituals to create for myself and for my dead. And I've realized that I have not ritualized the death of my mom. I was waiting for…the right time, the right thing, the right words that are never going to come.
But I am readying anyway because closure is a gift to myself. To her.
I will pull out the photo albums of pictures that she put together years before I would know them to be the first thing in my car when the fires started.
While on the anniversary of her death, I pulled them out on my own, this year, I will tell stories with others. I will let them know who she was and who she still is in my life as it is now.
I will call out her name when the Beloved Dead are invoked at the North Bay Reclaiming ritual. I will say it loud enough for others to hear it and I will trance to the space where she lingers. I will listen. I will reach out. I will ask her for guidance and wisdom. I will ask to hear her voice again.
Altars of Memory & Grief
I have an altar to my mother on my desk at home. Above the picture I have of me and her stands Hecate. Watching over. There is a statue of an angel that I found in my mom's things after the funeral. And an amethyst cavern that holds my grief.
This altar has been up all year. The only thing that has changed is where her rosary sits–sometimes in my wallet and sometimes in a small woven basket that I used to play with as a child.
And there is an ancestor altar in the kitchen. It holds pictures of grandparents and magickal teachers and community members who have passed this year. I light amber incense to call my attention to them. To celebrate.
A Grief Ritual for Remembrance
In the Reclaiming tradition (and others too), we call out the names of our Beloved Dead. We hear their names echo in ritual spaces, we sometimes write them on papers, and we often bring pictures to invite them to the ritual too.
My mom knew about my 'witchy' life. She knew the name I use and the tattoos across my back. It was one of the last times I saw her when she told me how proud she was of me. And after years of ignoring that part of my life, she saw me.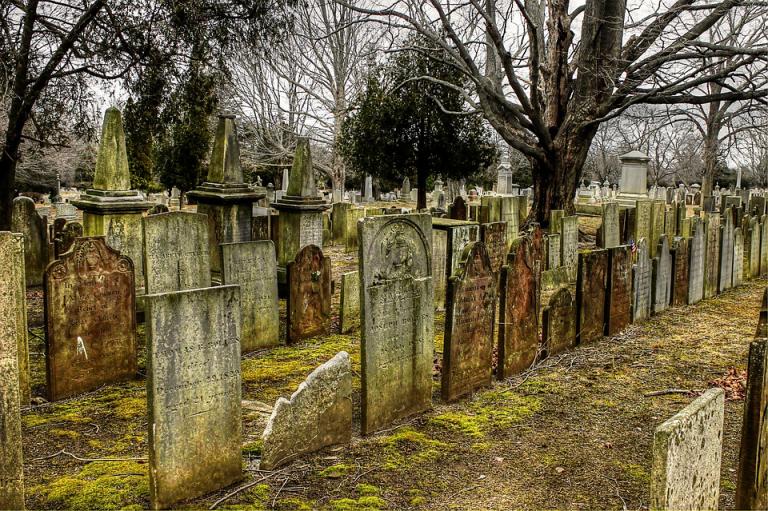 This Samhain, I will not be as numbed by her death. I have walked through the places of sadness — and I'm sure I'll visit from time to time. This year, I will sit with her in the darkness of our backyard. I will talk to her about all that has happened in my life. I will sing to her and light candles for her.
I will thank her for all that she has given me, all that she has enabled me to become. I will offer gratitude and chocolate and black licorice. I will offer her wine with ice cubes because she would like that. And I will fold myself into her memory.
In this grief ritual, I will look at her picture and remember what her skin felt like. I will remember how warm her cheek would be against mine. I will remember. I will remember.
And I will invite magick in. The way it comes when it comes. The way it washes over and soothes and heals.
I will remember. I will know the dead are always there. Here. Everywhere.
And there are no perfect rituals and no perfect words, but…
What is remembered, lives.