(This blog has been written by Starhawk when asked about the importance of Spiral Dance today.)
Reclaiming as a tradition was born out of activism.  If we believe that nature is sacred, we must take action to protect and regenerate the environment around us.  If we believe that each one of us is an embodiment of the Goddess, the divine force of creativity and compassion, we must work for social justice as well.
In  1979, when the first Spiral Dance was created, Jimmy Carter was President, the war in Vietnam was finally over, and many of us who had been activists in the '60s could turn our attention to examining the underlying culture that leads to war and injustice.  We were feminists, concerned about how power was distributed by gender, and we saw patriarchal religions as reinforcing that inequality, as well as the whole family of related 'isms': racism, heterosexism, ageism, ableism, environmental degradation, and more.  Creating a new spiritual tradition that honored women, diversity, and the earth, that was rooted in social and environmental justice, for us, was a political act.
Everyone is welcome at our rituals, regardless of your political persuasion, but we ask people to respect our values and behave in ways that further inclusion and respect for the wide diversity of our community.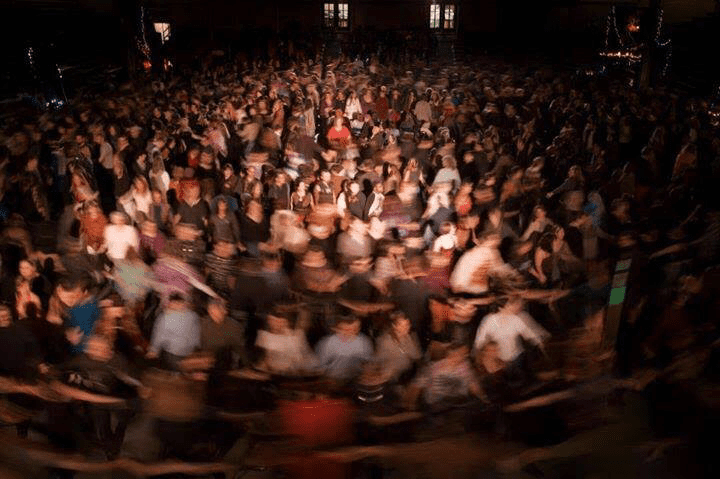 Altars to Action, Altars to Change
At the 40th Anniversary Spiral Dance, we want to honor all the movements and issues our community has been involved with over the last 40 years.  You'll see how—it may surprise you but feel free to join in!  We will also have a special altar table that honors current struggles, where people can place petitions and literature about what they are working on.  Making this an altar acknowledges that our efforts to create a more just world are sacred actions.
Here's a list of some of those actions—long as it is, I know there are many we've forgotten!
 Civil rights
Draft resistance
Peace
No War in Vietnam
Feminist movement
Take Back the Night
Reproductive Rights
End violence against women
Anti-racism
No nuclear power—Three Mile Island, Diablo Canyon, Yucca Mountain
No nuclear weapons—Rocky Flats, Livermore Action Group, Vandenberg Action Coalition, Nevada Test Site
No Cruise/Pershing missiles
Bohemian Grove
Justice for Farmworkers
LGBTQ Rights—ACT Up
Trans Rights
Food Not Bombs
No Intervention in Nicaragua, El Salvador, Honduras—Pledge of Resistance
Concord Naval Base—CISPES
Witness for Peace
Justice for Immigrants
Indigenous rights—Big Mountain, DQ University, Standing Rock, Shell Mounds,
No GMOS
No War in Iraq 1
End the Sanctions (Iran)
Forest Defense–Redwood Summer
Wilderness protection
Environmental justice
Stop the Bombing (Kosovo)
Justice for Leonard Peltier, Free Mumia
Prison reform
Economic justice issues—Richmond refinery, close the Bayview/Hunters' Point Power Plant, Hall of Shame Tour
No evictions
Defend the Mission
Support for the houseless
Martin de Porres volunteers
No WTO, IMF, World Bank—global justice
Food sovereignty
Justice for Palestine
No War in Iraq 2
Disaster response—Katrina, Haiti
Justice for Refugees
Black Lives Matter
End Police violence—Andy Lopez, Alex Nieto, Amilcar Perez Lopez and more
Occupy
Arab Spring
Community Gardens
Climate Justice
Permaculture and Land Regeneration
Fair Elections—No voter suppression
Working for Candidates
Running for Office
For all the details about this year's 40th Anniversary Reclaiming Spiral Dance ritual:
Thanks Starhawk!