Divination seems to be one of the most common practices of witches I know.
Should I take the job? Let's pull out the tarot.
Where is this relationship headed? The runes might have something to offer.
I don't know what to do during Mercury Retrograde. Will you pull a card for me?
What do the oracle cards have to offer because I'm just confused about what I'm feeling.
You get the picture. And you're probably in this picture too, at times.
My relationship with divination is on and off. There are times when I'm really into it and can hold onto the intricacies of interpretation and context. And there are times when I've tried to divine on something only to look up the meaning and I got more confused.
Or I noticed I read things in the way that would best attend to my bias.
I still pull runes. And I still have a tarot deck on my desk and on my phone.
But there are other ways to divine. And I'm always looking for more intuitive, more everyday ways to look for answers.
And maybe you are too. With as many questions as there are now, why not find other ways to ask for clarity in an unclear world?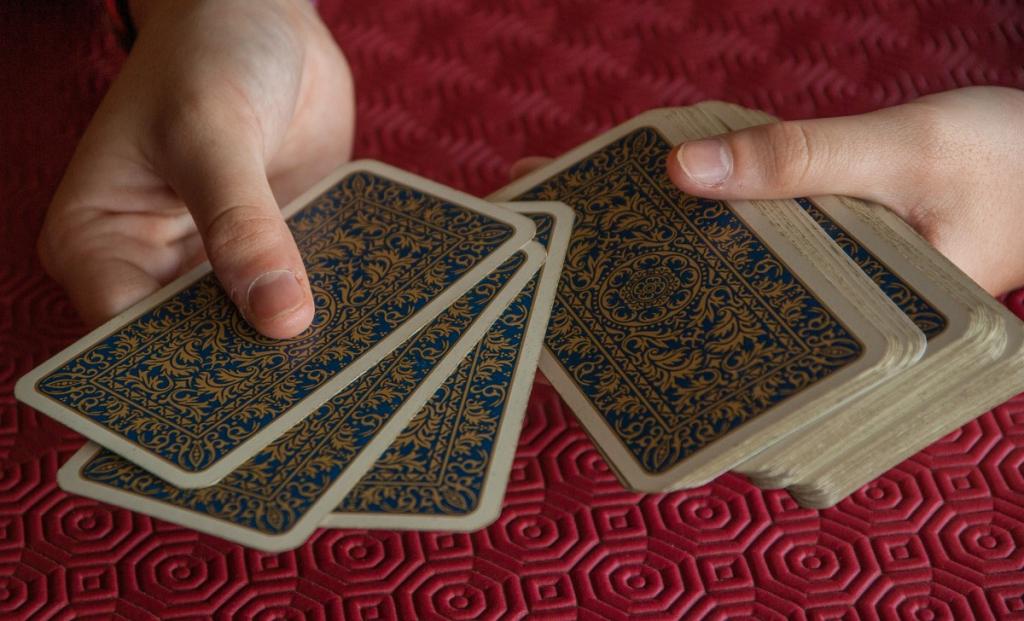 Divination in Nature
Before anything else, the question matters. While my go-to is often a vague and open-ended, "What do I need to know about ________?", it can also be helpful to be as specific as you need to be.
When you REALLY want to know about something, you need to summon the courage to ask straightforwardly.
Once I have the question and it's rolled around in my brain for a while, I go out into nature. After all, the cycles of growth and death, the colors and the way things fall on the ground will often lead me into answers and direction.
Here's what I've done:
Look — Really, just that. Look. What do you see? And instead of putting meaning on the things, just note EXACTLY WHAT YOU SEE. I find this helps me with tarot and runes too.
I have a beloved who always reminds me when she reads tarot that you should read what the cards show. What's in the cards? What's in the cards?
So I do that in nature.
How are the trees leaning? What are my eyes draw to? What do I hear? What birds are calling out? When are they calling out? Are they calling out when I have a certain idea in my head? Or when I'm allowing my thoughts to roll around?
Maybe that's the sign I need.
Is the water flowing or is the riverbed dry?
Are the buds early? Are the leaves falling quicker than they would?
What do I see? What wants me to find it?
I'll try to focus on a few things that I notice because I think there's a thing as too much information. Or maybe I'll say the next three things that catch my eye are the answers I need.
On the Streets I Find What I'm Looking For
One of my favorite practices after a Witchcamp is to be in the world again (well, ugh) and to say that the next few signs I see on stores, on streets, etc. are what I need to focus on.
They are the omens and the messengers.
Or I'll keep a question in my heart over the course of a day when I'm interacting with others. Without mentioning my query, I might listen for things to repeat or things that I have only said in my mind.
This has happened more often that I can't dismiss the power of a common phrase. Or an observation from a friend about a completely unrelated situation. It jolts me into understanding and a new way of thinking about my question.
Tracking the Everyday Divination of the Mind
The way I am thinking about things can also be the way that I gain insight. When I notice I am moving into anxiety or moving away from feelings, these are signs I might want to slow down and ask more questions.
What am I avoiding? That might be an answer.
Why am I feeling this way about this thing every time I think of it? That might be the answer.
The emotional landscapes. The patterns in my actions. The dreams that keep coming.
The journals full of observations that land as cards on a table. My mind constantly shuffling and pulling out the right ones for whatever I need.
Exactly when I need them.
I look around to find the answers. I see them for what they are. I say them out loud and let them fall into the swirl of my questions.
And I trust the guidance.
(And, yes, sometimes, I am called out right when I need to be.)
***