Natalie had been in and out of the hospital for asthma, fevers, and neutropenia. I rushed her to Texas Children's ER around noon on Good Friday of 2018 when she could no longer stand up and was moaning on the floor after a night of diarrhea and vomiting. She had a high fever and was not fully responsive by the time I got her to Texas Children's Hospital.
I called ahead, and they said there's a bed waiting for Natalie in the trauma room.
We were in the fast lane at TCH. If there's a place where you don't want to be a VIP, it's here.
My thoughts raced. Is this because she's failure to thrive? Is it her adrenal glands? Has she gone septic? Am I too late? I can't do this anymore. I'm not a doctor. The asthma medicine doesn't work. Something else is wrong. Doctors don't know everything. She is a mystery.
Help. God. Help.
We arrive, they put her on a stretcher and let me go into the trauma room with Nat. IVs, fever reducer medicine, her pulse is racing, her blood pressure is dropping.
A doctor and some medical students come in to take a look at Natalie. She asks if she can show the students some important things that Natalie is showing them- she pushed down on Natalie's skin. It blanched, but the color took a while to return to normal. Nat lay there limply, moaning, asking for me.
I'm here, Nat. Mommy's here.
Do you want her back, Lord? She never was mine in the first place. She belongs to you. If you would ask it of me, I offer her back to you. This beautiful girl. Though my heart breaks, she's yours. I know you can take better care of her than her daddy and I can…"
Abraham, when you offered Isaac, did you feel this way?
I remembered it was Good Friday. I asked Mary to give me strength. As she watched Jesus suffer, what she must have felt?
I asked her to be with me. I figured she was good company.
Hours later, she was stabilized and resting. A doctor came in to tell me what was wrong.
"C. Dificil, Parainfluenza, Norovirus, and E. Coli…"
"I don't understand. I don't know how to take care of her! I can't do this!"
"Mrs. Sanders, you're not going home. We are admitting your daughter to the PCU. She needs to stay here for a while so we can figure things out."
Hours later, we'd been moved to the Progressive Care unit. It was a step down from the ICU. I was happy that we weren't at that level of crisis.
A friend of mine showed up with some clothes from home and a 6 pack of little wine bottles (smuggled in). We laughed and cried and prayed as we watched Natalie's small chest rise up and down as she slept. I never thought that "communion" would happen for me under such circumstances, but it did.
The next day was Holy Saturday and the parochial vicar at our parish came. He anointed Natalie. Holy Week- and my church family was supporting me. Abraham had angels to help him. Mary had some support from the beloved apostle John, and I had support too.
I didn't walk through this alone.
Several days later, Natalie was released. We got to come home. My 2 older children were staying at my brothers' house. My husband and I marveled at the blessings. My mom arranged to have our house deep cleaned. More blessings.
Natalie slowly improved. The ER visits started becoming far less frequent.
My friends and family that had prayed for us and carried through that time interceded for us when we didn't have much. My mustard seed prayer didn't seem enough. God has since shown me it was.
A month after this, I was at adoration. I told God, "Ok. I'm all in. I promise. It's all yours, Lord."
The roller coaster of my walk with God continues. I am still trying to trust God more completely.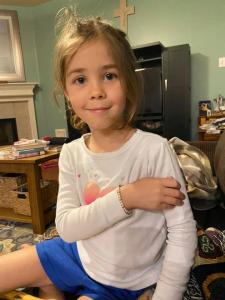 May you have blessings this Holy Week. Amen.