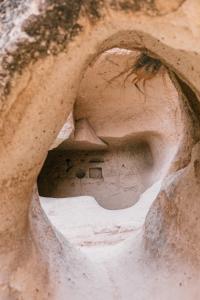 Today, the tabernacle is bare. Today, we are the presence of our Lord's body wounded yet whole, crucified and ressurected, but not yet fully because we have not yet fully participated in that passion.
Today we know something of how hollow this world can make itself.   Today we're reminded, we're not made for here, we're made for forever. It's why the hint of not forever that is death, is so jarring to our hearts.  It makes no sense to the soul, because God is love and love is thus infinite, forever, eternal, always.
Seeing Christ on the Cross is jarring.  Seeing Christ being taken down likewise, leaves us in that moment, even though we have the benefit of knowing, Easter is.  Yet we know, Christ was taken down and laid in a tomb.  We see the empty tabernacle and all I can think is, "They have taken my Lord and we don't know where He is." The open door feels so empty, it is almost unbearable.
Yet we know as we venerate the cross that this is why Christ came, to take on all that keeps us from Him.   So bring Him all those things.  Bring your anxieties.  Bring your worries. Bring your woes.  Bring your sins. Bring your weaknesses. Bring the minutia that weighs you down and the big things.  Bring the worries of today, pounds, bills, errands, chores, and the worries of the world, politics, disease, injustice, rage, violence, pain upon pain upon pain.  Bring your worries about your family –older, younger, cousins, friends, co-workers, friends in real life and friends on line.  Bring every worry that breaks the spirit and the body.
Bring every hurt past and present, bring them all to the altar, to the foot of the cross.  Bring every concern that wearies your soul, or makes you fear for another's.  Place everything on the altar, because all of it is too big, and yet we are here, dragging it and being dragged down by it. We are tired, we are worn, we are weary, we aren't holy and we know it.  We're distracted, we're wanting to somehow sleep and have all of this cup taken away…just taken because we cannot bear it.  It cannot be.  Christ knows, He knows the agony of every heart, the cries that scream to Heaven.   It's why He agreed to all of it, because we could not endure what God out of love endures and He knows it. We being fallen, struggle to love infinitely, we struggle to love.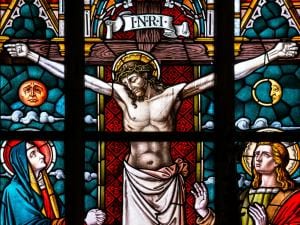 We are broken by the brokeness of the world and need God's grace infused into our hearts, everywhere just to keep going.
However, the passion and death of Christ is a reminder to us that death is not the end.   We should see God in the crucified man that is Jesus, even with the nails and the blood and the wounds.    Come Jesus come because we cannot even bear the splinters well much less the whole of the cross.   Take it all, every illness, every slight, every pain, every scrape, every everything that leaves us just wanting to say, "Mountains, fall on us." because we can't solve a one of these things, we can only weather them.  The reality is, we don't want to weather it.  We don't want the cup.
We have each of us, all of us, corrupted our churches because we keep thinking it is our church, and that these others, these people who do not think as we do, they do not belong, they are not worthy of the promises of Christ.  However, the promises of Christ, like the rays of mercy from His heart, and the blood and water that flow from his side, fall on the just and unjust, and promise each soul that turns to Him in earnest, more than we could ever merit.
Good Friday
The idea of joy not being somehow, of God being in the tomb; this is the great ache every heart feels at three o'clock on Good Friday, because we know in that terrible hour, how much more empty our lives could be, if we were made to somehow go on, without the One who is Love, the One we love, the One who loves us.
It is a moment those who grieve experience every time they remember that they grieve.  The space where the one we love should be, is empty like the tabernacle and we don't know where they are.  They are not in the ground. They are not in the bodies we bury.  They are, and yet we cannot yet know the fullness of the Easter yet to come, only that it is coming.  We cannot explain except to admit, we loved this soul, and this soul is no longer integrated with the shell of a body.   We miss the soul.  Our soul aches for the soul we no longer encounter in the tangible world, where all we have is the husk.    The tabernacle is empty.  The tabernacle is empty.  The temple has been destroyed.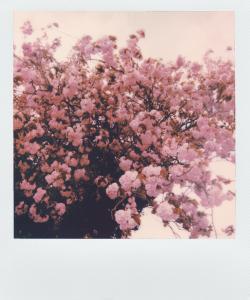 It hurts, and we must allow ourselves to hurt, we must embrace the crosses we are to carry, splinters though they are,  if we would know the joy of Easter.
Come Lord Jesus, Come. Come soon.